Last Letters of Navy
Special Attack Corps (1971)
Last Letter of Flight Warrant Officer Tokuo Koami to His Mother
Sometime between 0613 and 0658 on March 18, 1945, Flight Warrant Officer Tokuo Koami took off from Kokubu No. 1 Air Base as pilot of a Suisei Dive Bomber (Allied code name of Judy) loaded with a 500-kg bomb. He was a member of the Kamikaze Special Attack Corps Kikusui Unit Suisei Squadron. He died in a special (suicide) attack southeast of Kyūshū at the age of 19. He was from Ōsaka Prefecture and was a member of the 2nd Toku Otsu Class of the Navy's Yokaren (Preparatory Flight Training Program).
He wrote the following final letter:
Dear Mother,

Finally it is the place for the decisive battle.

It is my first battle. The first battle may be the final one, but I will strive very hard to do my best to the end.

I will go carrying the charm made for me by Kimiko and Itoko.

Please give my regards and say thanks to everyone.

Mother, Older Sister, I thank you from the bottom of my heart.

Tokuo
---
Letter translated by Bill Gordon
March 2018
The letter comes from Matsugi (1971, 142-3). The biographical information in the first paragraph comes from Matsugi (1971, 142) and Osuo (2005, 204).
Sources Cited
Matsugi, Fujio, ed. 1971. Kaigun tokubetsu kōgekitai no isho (Last letters of Navy Special Attack Corps). Tōkyō: KK Bestsellers.

Osuo, Kazuhiko. 2005. Tokubetsu kōgekitai no kiroku (kaigun hen) (Record of special attack corps (Navy)). Tōkyō: Kōjinsha.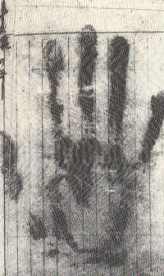 Handprint of Tokuo Koami
sent to his mother