Last Letters of Navy
Special Attack Corps (1971)
Last Letter of Lieutenant Kentarō Mitsuhashi to His Younger Brother and Sister
At 1120 on March 21, 1945, Lieutenant Kentarō Mitsuhashi took off from Kanoya Air Base in a Navy Type 1 Attack Bomber (Allied code name of Betty) carrying an ōka rocket-powered glider bomb. He was the leader of the Jinrai Butai (Thunder Gods Corps) 1st Ōka Squadron pilots. It was planned for Mitsuhashi to pilot the ōka glider bomb into an American ship after it was dropped from the bomber, but from 1420 to 1445 a group of about 50 American Grumman fighters intercepted the 18 Betty bombers that had taken off from Kanoya and shot all of them down before any ōka glider bomb could be released. Mitsuhashi died in this special (suicide) attack at the age of 21. He was from Chiba Prefecture and graduated in the 72nd Class of the Naval Academy at Etajima.
He wrote the following final letter to his younger brother and sister:
Dear Shigeo and Chieko,

I was glad to read the letter from you. At last a new beginning is near at hand. Please work hard with spirit and energy.

Here I am in very good health, and every day I am focused on rigorous training, so please be at ease about me. If we Japanese people do not engage in heroic fighting against the desperate counterattacks of the enemy Americans and British, there cannot be peace for ten thousand generations in the Emperor's domain.

The kamikaze (divine wind) from long ago was a gift where persons did their best and the heavens did the rest. Now in the divine country of Japan will there be as expected a kamikaze that protects the Emperor's domain? I believe that there certainly will be one, but that is in addition to the best efforts of people.

Reflecting on the current circumstances, have we reached the stage where we are not able to do anything more? If the Japanese people one by one do not work until they are completely exhausted, this war cannot be won. I think that there is still strength remaining in the Japanese people. It is the time when we must persevere until that remaining strength runs out. Now the nearby enemy is carrying out reconnaissance of our mainland. Now is the time to stand up.

Both of you, burning with the spirit that you have now, please push forward bravely to do your duty.

Please give my regards to Father, Mother, and Older Sister. I pray that you take care of yourselves and strive more and more.

From Older Brother
March 5
---
Letter translated by Bill Gordon
May 2018
The letter comes from Matsugi (1971, 224-5). The biographical information in the first paragraph comes from Bungeishunjū (2005, 568-9), Matsugi (1971, 224), and Osuo (2005, 181). The historical photos below come from Naito (1989, 126) (1st); Naito (1989, 121) (2nd); and Bungeishunjū (2005, 111) (3rd).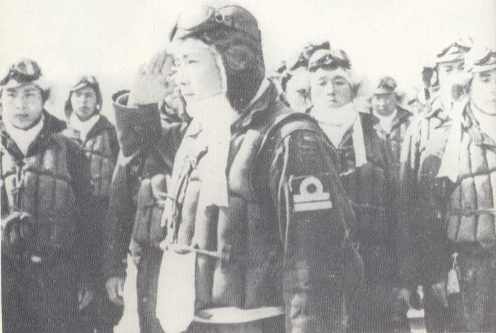 Ōka unit leader Lieutenant Kentarō Mitsuhashi salutes
as he and his men prepare to take off from Kanoya
Air Base on first ōka mission on March 21, 1945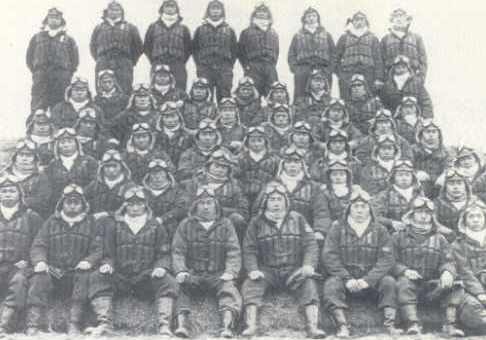 Mitsuhashi Unit members pose for group photo before first
ōka mission on March 21, 1945. Lieutenant Kentarō
Mitsuhashi is seated fourth from right on front row.
Sources Cited
Bungeishunjū, ed. 2005. Ningen bakudan to yobarete: Shōgen - ōka tokkō (They were called human bombs: Testimony - ōka special attacks). Tōkyō: Bungeishunjū.

Matsugi, Fujio, ed. 1971. Kaigun tokubetsu kōgekitai no isho (Last letters of Navy Special Attack Corps). Tōkyō: KK Bestsellers.

Naito, Hatsuho. 1989. Thunder Gods: The Kamikaze Pilots Tell Their Stories. Translated by Mayumi Ishikawa. Tōkyō: Kōdansha International.

Osuo, Kazuhiko. 2005. Tokubetsu kōgekitai no kiroku (kaigun hen) (Record of special attack corps (Navy)). Tōkyō: Kōjinsha.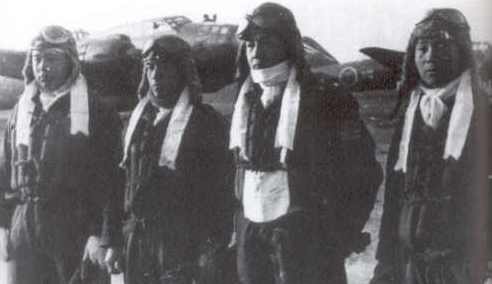 Lieutenant Kentarō Mitsuhashi (second from right) before first ōka
mission on March 21, 1945. He is carrying around his neck a white
pouch that contains the ashes of Tsutomu Kariya, a fellow Naval Academy
graduate who died during an ōka descent exercise on November 13, 1944.