Last Letter of Corporal Toshio Nagata to His Parents
On May 4, 1945, Corporal Toshio Nagata took off from Miyakonojō East Airfield as a member of the 60th Shinbu Special Attack Squadron and died in a special (suicide) attack west of Okinawa at the age of 19. He piloted an Army Hayate Type 4 Fighter (Allied code name of Frank). After his death in a special attack, he received a promotion to Second Lieutenant. He was from Kagoshima Prefecture and was a member of the 14th Class of the Army Youth Pilot (Rikugun Shōhi) training program.
He wrote the following final letter to his parents:
Dear Parents,

Sorry to not have written for a while. I trust that you are getting along well.

I also am in very high spirits. Since I feel that the time has come, please rest assured. The situation has become more and more critical. I earnestly am praying that you will be well and that you work hard to increase production. I sincerely request that you please give my regards to close relatives and people in the village.

With this short letter I pray for the health of the family.

The time to fall has come for a young cherry blossom of Yamato [1]
Nobly, beautifully, I will fall

Toshio
---
Letter translated by Bill Gordon
July 2018
The letter comes from Terai (1977, 51). The biographical information in the first paragraph comes from Chiran Tokkō Irei Kenshō Kai (2005, 218) and Osuo (2005, 199). The photo below is from Osuo (2005, 109).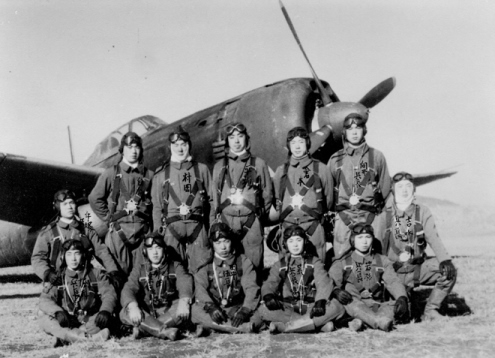 Members of 60th Shinbu Special Attack Squadron.
Toshio Nagata is sitting second from the left on the front row.
Note
1. Yamato is an ancient name for Japan.
Sources Cited
Chiran Tokkō Irei Kenshō Kai (Chiran Special Attack Memorial Society), ed. 2005. Konpaku no kiroku: Kyū rikugun tokubetsu kōgekitai chiran kichi (Record of departed spirits: Former Army Special Attack Corps Chiran Base). Revised edition, originally published in 2004. Chiran Town, Kagoshima Prefecture: Chiran Tokkō Irei Kenshō Kai.

Osuo, Kazuhiko. 2005. Tokubetsu kōgekitai no kiroku (rikugun hen) (Record of special attack corps (Army)). Tōkyō: Kōjinsha.

Terai, Shun'ichi, ed. 1977. Kōkū Kichi Miyakonojō Hayate Tokkō Shinbutai (Miyakonojō Air Base Hayate Special Attack Shinbu Unit). Tōkyō: Genshobō.

Corporal Toshio Nagata