Last Letters of Corporal Yoshikazu Sakakihara to His Parents
On June 7, 1945, Corporal Yoshikazu [1] Sakakihara took off from Bansei Air Base as a member of the 63rd Shinbu Special Attack Squadron and died in a special (suicide) attack west of Okinawa at the age of 20. He piloted an Army Type 99 Assault Plane (Allied nickname of Sonia). After his death in a special attack, he received a promotion to Second Lieutenant. He was from Fukushima Prefecture and was a member of the 13th Class of the Sendai Pilot Training School.
He wrote the following final letter to his parents:
Dear Father and Mother,

Now I will make a sortie. Do not worry about me.

Please give my regards from you Father to my younger brother Hikoji. I trust that in the future he will become a fine person.

I hope that my younger sisters also can become good persons and good mothers.

Please provide guidance to my younger brother and sisters.

Give my regards to Yanai-sensei and the others.

Please enjoy good health for many more years.

Farewell.

June 6, 1945
Yoshikazu
Below is the actual letter that is translated above: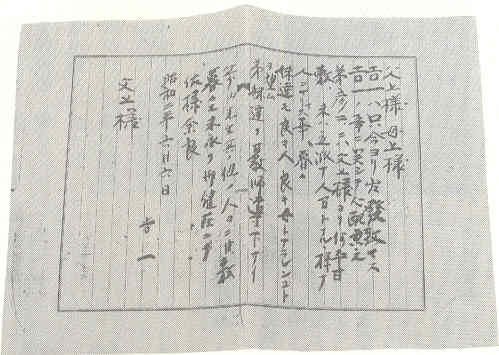 Yoshikazu Sakakihara's final letter dated June 6, 1945
He also wrote the following letter on the morning of the same day that the above letter was written:
Dear Father and Mother,

Thank you for your great care of my younger brother and sisters and everyone. Now I will be leaving. Do not worry. Give my regards to Grandmother in Motomiya [2]. Give my regards to Grandmother in Kitamachi [3] and Uncle Sōichi. Please pay attention to your health so you can live for many years.

Preferring not to meet face to face, farewell, farewell.

I will sink a ship instantly.

Morning of June 6, 1945
Yoshikazu
The 63rd Shinbu Special Attack Squadron was formed at Hokota Air Base in Ibaraki Prefecture on March 23, 1945. Sakakihara wrote the following letter to his father in May 1945:
Dear Father,

In haste I will send money to you.

On May 15, I will move to the airfield at Hōfu in Yamaguchi. Since I have no need for such things as money as I will die, I will transfer to you my bank account of about 300 yen.

I thought that I would write a last letter, but since I do not have anything in particular to write, I decided not to write it. When I feel like it, I may write it.

I sincerely pray that you will live in good health for many years.

To Father, Mother, and Younger Brother and Sisters, I will go to Okinawa. Farewell.

May 15, 1945, 8 a.m.
Yoshikazu
---
Letters translated by Bill Gordon
April 2018
The letters and other information on this page come from Naemura (1993, 175-6) and Osuo (2005, 200).
Notes
1. The two kanji characters of his name of 吉一 can be translated as Yoshikazu, which is most common, or Yoshiichi. It could not be determined whether Yoshikazu or Yoshiichi is correct.
2. Motomiya is a city in central Fukushima Prefecture.
3. Kitamachi is a district in Fukushima City.
Sources Cited
Naemura, Hichirō. 1993. Rikugun saigo no tokkō kichi: Bansei tokkōtaiin no isho to isatsu (Army's last special attack base: Last letters and photographs of Bansei special attack corps members). Ōsaka: Tōhō Shuppan.

Osuo, Kazuhiko. 2005. Tokubetsu kōgekitai no kiroku (rikugun hen) (Record of special attack corps (Army)). Tōkyō: Kōjinsha.