Last Letter of First Lieutenant Toru Shinomiya to His Mother and Older Brother
On April 29, 1945, First Lieutenant Toru Shinomiya took off from Chiran Air Base and died in a special (suicide) attack west of Okinawa at the age of 22. He was Squadron Leader of the 19th Shinbu Special Attack Squadron. He piloted an Army Hayabusa Type 1 Fighter (Allied code name of Oscar). After his death in a special attack, he received a two-rank promotion to Major. He was from Kumamoto Prefecture and graduated in the 56th Class of the Army Air Academy.
He wrote the following final letter. The letter's end has a haiku (poem with a 5-7-5 syllable pattern).
Dear Mother and Older Brother,

I make a sortie now. I am truly in high spirits. I remember excursions during elementary school. Just like then I am waiting as my heart pounds with excitement wondering what sort of prey there will be.

All squadron members truly are pure-hearted and innocent without any obsession at all with things like resolve and determination.

In the morning when I went to elementary school, I remember I would say when I left, "I am going." I am truly filled with happiness. Well, "I am going."

Hope you enjoy good health.

Encouraged by the moonlight
From the eternal heavens
Going to certain success
---
Letter translated by Bill Gordon
December 2007
The letter and biographical information on this page come from Chiran Tokkō Irei Kenshō Kai (2005, 120, 213) and Osuo (2005, 195).
---
On December 3, 1944, 86 B-29 Superfortress bombers took off from Saipan in order to bomb Tōkyō. First Lieutenant Toru Shinomiya, who led a ramming unit based at Chōfu Airfield, took off at 1245 in a Hien Type 3 Fighter (Allied code name of Tony). Shinomiya rammed a B-29 and was able to land with a damaged wing. He received a medal of honor (bukōshō) for his exceptional valor in the attack, and his plane with a damaged wing was displayed at a Tōkyō department store (see below).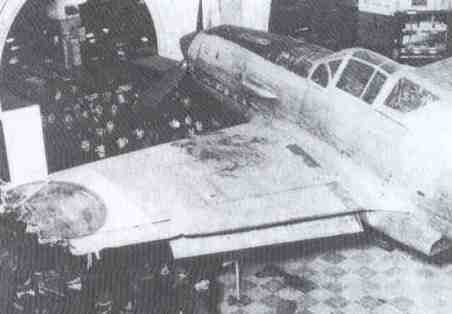 First Lieutenant Toru Shinomiya's plane with
damaged left wing displayed at Matsuya Department Store
in Ginza District of Tōkyō until end of January 1945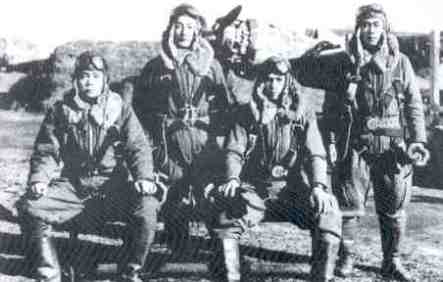 Ramming unit of 244th Sentai led by First Lieutenant
Toru Shinomiya (far left) (November 1944)
The photographs on this page and the information on Shinomiya's ramming attack on a B-29 bomber come from Takaki and Sakaida (2001, 34-6, 38, 42, 49, 52, 121-2).
Sources Cited
Chiran Tokkō Irei Kenshō Kai (Chiran Special Attack Memorial Society), ed. 2005. Konpaku no kiroku: Kyū rikugun tokubetsu kōgekitai chiran kichi (Record of departed spirits: Former Army Special Attack Corps Chiran Base). Revised edition, originally published in 2004. Chiran Town, Kagoshima Prefecture: Chiran Tokkō Irei Kenshō Kai.

Osuo, Kazuhiko. 2005. Tokubetsu kōgekitai no kiroku (rikugun hen) (Record of special attack corps (Army)). Tōkyō: Kōjinsha.

Takaki, Koji, and Henry Sakaida. 2001. B-29 Hunters of the JAAF. Botley, UK: Osprey Publishing.