Takashi Takayanagi next to
58th Shinbu Squadron
fighter's tail with skull
and crossbones symbol
Last Letter of Second Lieutenant Takashi Takayanagi to His Mother
On May 25, 1945, Second Lieutenant Takashi Takayanagi took off from Miyakonojō East Airfield as 58th Shinbu Special Attack Squadron Leader and died in a special (suicide) attack west of Okinawa at the age of 20. He piloted an Army Hayate Type 4 Fighter (Allied code name of Frank). After his death in a special attack, he received a promotion to Captain. He was from Kanagawa Prefecture and graduated from the Imperial Japanese Army Air Academy in the 57th Class.
He wrote the following final letter:
Dear Mother,

I am keeping pure loyalty and devotion for the great cause.

You have taken care of me in many ways, and finally the time has come to repay your kindness.

Please understand my state of mind as I take off and go in high spirits. Now with nonexistence, there is nothing that I must say, but finally I will write a few words.

Please live with strength. As mother of a country at war, I will go and die smiling. But I definitely will not die. I believe after all in seven lives. As the son of Mother until the end, please be glad from the bottom of your heart about my end.

Please live a long life forever in good health. Farewell.

Dear Older Sister,

Please live in high spirits.

I ask that you please take care of Mother.

Hajime and Takeshi, grow big quickly.

Dear Isao,

Go forward on the path that you believe in. Observe the Emperor's magnificent steps. Take care of yourself. Show filial piety, and take care of Mother.

Dear Kiyoshi,

I think that you understand best this feeling that I have now.
He also wrote the following death poem in tanka form (31-syllable poem with a syllable pattern of 5-7-5-7-7):
Even if a young cherry blossom falls bravely
I desire seeds that will bear fruit

May 23, 1945, at Hōfu Airbase
---
Letter and poem translated by Bill Gordon
August 2018
The letter and poem come from Terai (1977, 83-4). The biographical information in the first paragraph comes from Chiran Tokkō Irei Kenshō Kai (2005, 176), Osuo (2005, 199), and Terai (1977, 83).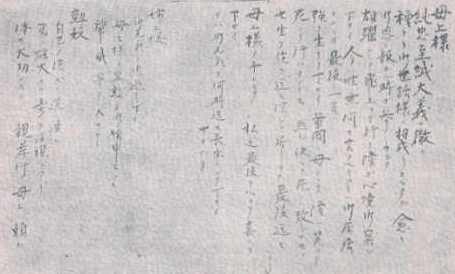 Second Lieutenant Takashi Takayanagi's Final Letter
Sources Cited
Chiran Tokkō Irei Kenshō Kai (Chiran Special Attack Memorial Society), ed. 2005. Konpaku no kiroku: Kyū rikugun tokubetsu kōgekitai chiran kichi (Record of departed spirits: Former Army Special Attack Corps Chiran Base). Revised edition, originally published in 2004. Chiran Town, Kagoshima Prefecture: Chiran Tokkō Irei Kenshō Kai.

Osuo, Kazuhiko. 2005. Tokubetsu kōgekitai no kiroku (rikugun hen) (Record of special attack corps (Army)). Tōkyō: Kōjinsha.

Terai, Shun'ichi, ed. 1977. Kōkū Kichi Miyakonojō Hayate Tokkō Shinbutai (Miyakonojō Air Base Hayate Special Attack Shinbu Unit). Tōkyō: Genshobō.