Last Letter of Corporal Osamu Tanaka to His Father
On May 4, 1945, Corporal Osamu Tanaka took off from Miyakonojō East Airfield as a member of the 60th Shinbu Special Attack Squadron and died in a special (suicide) attack west of Okinawa at the age of 20. He piloted an Army Hayate Type 4 Fighter (Allied code name of Frank). After his death in a special attack, he received a promotion to Second Lieutenant. He was from Fukui Prefecture and was a member of the 13th Class of the Army Youth Pilot (Rikugun Shōhi) training program.
He wrote the following final letter:
Dear Father,

Please forgive me for skipping the preliminaries.

I was appointed as a Special Attack Corps member by a sudden order. I think that at the time this package has arrived I will have fallen, but I will write a short letter.

When I think back, ever since I entered the Tōkyō Army Aviation School in 1941, according to my long-cherished desire I waited eagerly, with each moment seeming like an eternity, for the day that I would advance and attack. This time that I described, which is the long-cherished desire of a young man of Shinshū [1], has arrived.

By your assistance, today I and my brothers and sisters [2] quietly perform service. I can guess that it is noticed by people of the world. I think that I have been committed for some time, but I fear being talked about behind my back by the public. Excuse me, but I say softened words.

I have a request. On the occasion when I accomplish my duty successfully, I am not able to think about public consideration. Thinking about families with many deaths in battle, I ask that greater importance not be placed on the death of the first person.

Next, except for items to keep as mementos, please burn the things that I sent home while in the military with papers that could have military secrets. Among the items, referred to before, that I will send in a trunk, I am sending a jacket as a memento. Please do not go outside without wearing it.

Next, I am sorry to all of the relatives for my being very busy with work. From you please give my regards to them. Sorry to go before you, but I will be praying for the health of all of you from the main shrine at Yasukuni. Give my regards to Older Sister.

April 2, 1945

From Osamu
The 60th Shinbu Special Attack Squadron was formed at Akeno Air Base in Mie Prefecture on March 29, 1945 [3], four days prior to the date of the above letter.
---
Letter translated by Bill Gordon
July 2018
The letter comes from Terai (1977, 49-50). The biographical information in the first paragraph comes from Chiran Tokkō Irei Kenshō Kai (2005, 180) and Osuo (2005, 199). The photo below is from Osuo (2005, 109).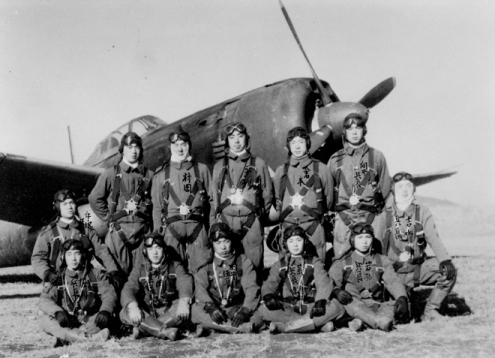 Members of 60th Shinbu Special Attack Squadron.
Osamu Tanaka is sitting in the center (third from left) of the front row.
Notes
1. Shinshū refers to Japan and literally means "divine land."
2. The letter does not specify the number of brothers and sisters. There could have been one or more of each.
3. Osuo 2005, 180.
Sources Cited
Chiran Tokkō Irei Kenshō Kai (Chiran Special Attack Memorial Society), ed. 2005. Konpaku no kiroku: Kyū rikugun tokubetsu kōgekitai chiran kichi (Record of departed spirits: Former Army Special Attack Corps Chiran Base). Revised edition, originally published in 2004. Chiran Town, Kagoshima Prefecture: Chiran Tokkō Irei Kenshō Kai.

Osuo, Kazuhiko. 2005. Tokubetsu kōgekitai no kiroku (rikugun hen) (Record of special attack corps (Army)). Tōkyō: Kōjinsha.

Terai, Shun'ichi, ed. 1977. Kōkū Kichi Miyakonojō Hayate Tokkō Shinbutai (Miyakonojō Air Base Hayate Special Attack Shinbu Unit). Tōkyō: Genshobō.