Last Letters of Corporal Yōji Umemura to His Parents
On April 16, 1945, Corporal Yōji Umemura took off from Bansei Air Base as a member of the 75th Shinbu Special Attack Squadron and died in a special (suicide) attack at the age of 20. He piloted a Type 99 Assault Plane (Allied code name of Sonia). After his death in a special attack, he received a promotion to Second Lieutenant.
Umemura was from Tōkyō Prefecture. In September 1943, he left the Army Artillery School and joined the 14th Class of the Inba Pilot Training School, where he graduated in March 1944. He then went to the Sendai Pilot Training School and finished there in July 1944.
On April 7, 1945, four members including the commander of the 75th Shinbu Special Attack Squadron died in a special attack after taking off from Bansei Air Base. On April 12, another four members of the 75th Shinbu Squadron died in a special attack. On April 13, another squadron member died in a special attack. On April 16, Umemura took off in a single plane from his squadron and died in a special attack.
He wrote the following final letter:
Dear Parents,

Excuse me for writing hastily.

On the morning of April 6, I took off in my plane with my unit from this place in Kagoshima. I flew up, said farewell to the mainland, and reached OO [1] Island. Since the weather was bad (poor visibility), I swallowed my tears and returned. Also on the 7th, 8th, 9th, 10th, and 11th, weather was bad as it was raining, and the departure was postponed to the 12th. During this time the woman who is the innkeeper at Shōwakan Inn [2] at this address provided us with superlative care. She is a thin and kind person like you Mother, and she looked after us in many ways. Father and Mother, please send her a letter of thanks.

Today we took a photo [3]. This being a photo of my last sortie, it is a figure that already has passed far beyond consideration of life and death. Living, I could not meet with you. In death, I surely will come to where you are, Father, Mother, Machiko, and Seishi. Take good care of yourselves.

I will make a splendid taiatari (body-crashing) attack on an enemy ship with the photo of you Father and Mother, Yotchan, Seishi, Machiko, and Older Brother.

As soon as this photo is developed, the innkeeper will send it to you.

Farewell.

Evening of April 11, 1945
Yōji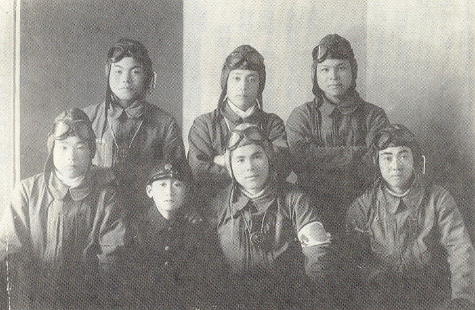 Photograph taken of 75th Shinbu Squadron members and
Izumi Nanbu, son of Shōwakan Inn innkeeper (April 11,1945).
Left to right front row: Sakai, Nanbu, Onoda, Shimamura.
Left to right back row: Shimabukuro, Umemura, Iwata.
He wrote the following letter on the day before his final sortie:
Dear Parents,

Again it is painful to write such a letter. Pardon my messy writing. The reason is that I survived after the last letter. Two of us remained behind due to the poor condition of the planes at the time of the sortie. My comrades already made taiatari (body-crashing) attacks. Full of disappointment, I envy the gods of heaven. I talk together with my friend Watanabe [4], as we console each other, as to why we could not die together with our squadron commander and other comrades. Tomorrow when the time comes I will be full of joy.

This home [5] has provided me much care while alive. The mother here has looked after me in place of you Mother. The father and everyone else also in one way or the other provide exceptional care.

During my period of living, I could not meet with you Father, Mother, Machiko, and Seishi, but when I came to this house I have been full of joy as it makes me feel like I am at home. The reason why I want to write this letter on the day before my death is so that I can ask that you Mother please send a letter of thanks.

The farming people in this house are devoted to kindness. I intensely remember my hometown as I recall you Father, Mother, Machiko, and Seishi, which gives me solace. I am satisfied and certainly will accomplish my mission. Finally, Machiko, there will be responsibility on your shoulders. I will rely on you.

April 15, 1945
Yōji
Umemura wrote the following death poem:
Cotton comes
In white wooden box
Kudan Hill
I will go
Special Attack Corps member
A white wooden box was how the Japanese military usually delivered the remains of war dead to their families. In the case of kamikaze pilots, the remains such as fingernails or hairs from the head would often be prepared in advance. There are also cases where the white box would arrive at the family's home with no remains. Umemura describes the box with only cotton inside. Kudan Hill is the location in Tōkyō of Yasukuni Jinja, Japan's national shrine to honor the spirits of soldiers killed in battle.
---
Letters and poem translated by Bill Gordon
March 2018
The letters, poem, and other information on this page come from Naemura (1993, 127-9, 474) and Osuo (2005, 202).
Notes
1. Certain information such as details of place names would not be included or would be censored in correspondence to civilians.
2. Shōwakan Inn was the home of Masu Nanbu in Kaseda City.
3. The photograph of six 75th Shinbu Squadron members together with the son of the innkeeper Masu Nanbu was taken on April 11, 1945, at Sakashita Photography Studio in front of Kaseda Train Station.
4. Iwao Watanabe survived the war and become the head of Kushiro Airport in the postwar period.
5. This refers to Shōwakan Inn, which Umemura described in his prior letter dated April 11, 1945.
Sources Cited
Naemura, Hichirō. 1993. Rikugun saigo no tokkō kichi: Bansei tokkōtaiin no isho to isatsu (Army's last special attack base: Last letters and photographs of Bansei special attack corps members). Ōsaka: Tōhō Shuppan.

Osuo, Kazuhiko. 2005. Tokubetsu kōgekitai no kiroku (rikugun hen) (Record of special attack corps (Army)). Tōkyō: Kōjinsha.