Last Letters of Corporal Teruo Usami to His Mother
On July 1, 1945, Corporal Teruo Usami took off from Miyakonojō East Airfield as a member of the 180th Shinbu Special Attack Squadron and died in a special (suicide) attack off Okinawa at the age of 18. He piloted an Army Hayate Type 4 Fighter (Allied code name of Frank). After his death in a special attack, he received a promotion to Second Lieutenant. He was from Fukushima Prefecture and was a member of the 14th Class of the Army Youth Pilot (Rikugun Shōhi) training program.
The following final letter to Usami's mother with a poem at the end mentions his fellow 180th Shinbu Squadron member Corporal Sukeo Nitta:
To my kind and much-loved Mother,

I feel like day by day the heat has been increasing. The hills and fields gradually have become a deeper green. Until coming to Yamaguchi, I had neglected writing for a long time. I as usual have been in good health, and how have you been? I together with Older Brother Sukeo are exceptionally well as the day to go to battle draws close, and we have been exerting all of our power in our last rigorous training.

From the radio and newspaper, I strongly feel that finally the time that had to come has come. The order for us to go to battle was issued. Next, at any time we must go when ordered "go" based on the Imperial command.

We are not thinking about that at all. Instead, I cannot stop wishing that the coming of that day will be soon.

At this point I have no regrets, but I wanted to show more filial piety. And now at this stage, this also cannot be done in any way. As I wrote also before, I want to repay you with my battle results.

Talking with Nitta's mother was the same as talking with you in Shimodate, except she was a person with a round face very similar to Nitta. Fortunately, Nitta flew his plane and seemed to pay attention to every single word that I explained to him. I wanted to let you see my plane too.

My plane's fuselage is the oldest, but it is in very good condition perhaps because of maintenance. Since it is in such a condition whenever the call is received, please rest assured. Nitta's plane also has a good fuselage and engine. Together we will strive to do our best until the end. The condition of the planes is good, and I have no regrets. I will charge in together with a photograph of Father and you. Your senninbari (thousand stitch belt) and good-luck charm will keep me safely on the way there.

Today I will end here. This is the last letter of my entire life.

The planned day of the sortie is the 13th, which is most hated by the enemy. I expect hisshō hitchin (certain victory, sure sinking).

Take good care of yourself, and do not overwork yourself.

From Teruo

June 11, 1945, 19:13

Young cherry blossom at Mount Yoshino
Warrior blooms and falls
A young eagle with admirable spirit
This is way of Yamato warrior

Inside Sentai Inn, Muta-chō, Miyakonojō City, Miyazaki Prefecture
He wrote the following last letter to his mother. The letter's end has three poems in tanka form (31-syllable poem with a syllable pattern of 5-7-5-7-7) at the end.
Dear Mother,

Finally, this is the end.

Since a young age I have caused only troubles for you, but a sense of satisfaction runs through me to be a man who now has received such a sortie order.

The time finally has come to serve as a fighter pilot. I certainly will do my best to achieve honor for the family as I also have written before.

Kind Mother, the best in Japan, if I could tell fortunes today with playing cards, yours would be the best. You will be able to spend your happiest days in the future. Father also will have long days. It seems he will be able to return home and live together with you. My fortune says that I certainly will live to be more than 35 years old, but I will go as a foundation of peace for the Empire thanks to the Emperor. I do not want to carry out a sinking with the photographs of you and Father, so now I am enclosing them here to return to you.

With the pleasant photograph of you who tenderly watched me each day in my activities and flying, today when I think of my departure, I truly feel lonely. Even with the photographs and departure, I will be strong to defend Japan with an unflinching spirit. Seeming short, it was a long 19 years [1]. Forgetting all the good and bad, I only strive to find a ship and surely sink it.

The announcement will probably be at the time of the Bon Festival [2]. This year's Bon Festival will be my first one. When I gaze at the mountains, I am reminded of the scenery in Fukushima.

Best mother in Japan, please always be healthy. I am not writing anything in particular to Father, since I am thinking that he cannot be contacted in Mongolia. I will go in high spirits.

Farewell forever.

Even though my wings are broken and control stick smashed to pieces
I will not stop pursuing an enemy aircraft carrier

A cherry blossom falling in a splendid dive at Okinawa
Aircraft carrier with me to the other world

Blizzard of cherry blossoms leaving to fall in special attack
Not expecting to return alive from first battle
---
Letters translated by Bill Gordon
1st - May 2019, 2nd - February 2018
The two letters come from Terai (1977, 120-3). The biographical information in the first paragraph comes from Chiran Tokkō Irei Kenshō Kai (2005, 151, 161) and Osuo (2005, 206).
Corporal Teruo Usami and Corporal Sukeo Nitta were the only two members of the 180th Shinbu Special Attack Squadron to make a sortie and die in a special attack on July 1, 1945. Corporal Sukeo Nitta wrote a last letter to his parents and older sister that mentions Teruo Usami in it.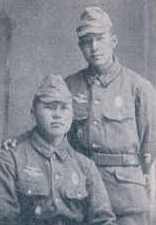 Sukeo Nitta (left) and
Teruo Usami (right)
Notes
1. The traditional Japanese method of counting age, as in much of East Asia, regards a child as age one at birth and adds an additional year on each New Year's day thereafter. This may explain why the letter indicates his age as 19 whereas the background information in Chiran Tokkō Irei Kenshō Kai (2005, 151) indicates his age as 18.
2. The Bon Festival is an annual Buddhist event celebrated in mid-August to honor the spirits of one's ancestors. During the Bon Festival, it is believed that the spirits return to visit their living relatives.
Sources Cited
Chiran Tokkō Irei Kenshō Kai (Chiran Special Attack Memorial Society), ed. 2005. Konpaku no kiroku: Kyū rikugun tokubetsu kōgekitai chiran kichi (Record of departed spirits: Former Army Special Attack Corps Chiran Base). Revised edition, originally published in 2004. Chiran Town, Kagoshima Prefecture: Chiran Tokkō Irei Kenshō Kai.

Osuo, Kazuhiko. 2005. Tokubetsu kōgekitai no kiroku (rikugun hen) (Record of special attack corps (Army)). Tōkyō: Kōjinsha.

Terai, Shun'ichi, ed. 1977. Kōkū Kichi Miyakonojō Hayate Tokkō Shinbutai (Miyakonojō Air Base Hayate Special Attack Shinbu Unit). Tōkyō: Genshobō.