Last Letter of Corporal Fujio Wakamatsu to His Mother
On June 3, 1945, Corporal Fujio Wakamatsu took off from Chiran Air Base as a member of the 111th Shinbu Special Attack Squadron and died in a special attack west of Okinawa at the age of 19. He piloted an Army Type 97 Fighter (Allied code name of Nate). After his death in a special attack, he received a four-rank promotion to Second Lieutenant. He was from Kagoshima Prefecture and was a member of the 15th Class of the Army Youth Pilot (Rikugun Shōhi) training program.
He wrote the following final letter to his mother:
Dear Mother,

Now there is no complaint.

I go smiling in my last and also my first act of filial piety.

Please say "well done" without crying and prepare a dumpling (dango) before Buddha.

As for the doll, please think of me.

Give my regards to my older brother, older sister, and Kazumi [1].

In my haste, please look at this handwriting.

Give my regards also to all of the neighbors.

Mother, I go smiling. Take care.

Farewell.

Fujio
The original letter is show below.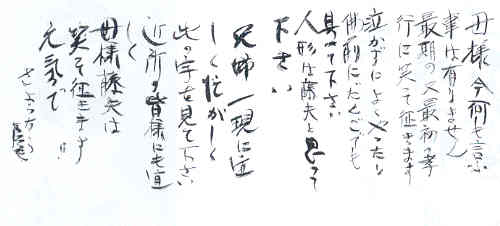 Letter of Fujio Wakamatsu to Mother
---
Letter translated by Bill Gordon
April 2018
The letter and biographical information on this page come from Chiran Tokkō Irei Kenshō Kai (2005, 141, 219) and Osuo (2005, 205).
Note
1. The Japanese word keishi can mean one older brother and one older sister or more than one.
Sources Cited
Chiran Tokkō Irei Kenshō Kai (Chiran Special Attack Memorial Society), ed. 2005. Konpaku no kiroku: Kyū rikugun tokubetsu kōgekitai chiran kichi (Record of departed spirits: Former Army Special Attack Corps Chiran Base). Revised edition, originally published in 2004. Chiran Town, Kagoshima Prefecture: Chiran Tokkō Irei Kenshō Kai.

Osuo, Kazuhiko. 2005. Tokubetsu kōgekitai no kiroku (rikugun hen) (Record of special attack corps (Army)). Tōkyō: Kōjinsha.