Last Letters of Sergeant Tatsuo Wakao to His Parents
In the early morning on May 28, 1945, Sergeant Tatsuo Wakao took off from Bansei Air Base as a member of the 432nd Shinbu Special Attack Squadron and died in a special (suicide) attack west of Okinawa at the age of 21. He piloted a Type 2 Advanced Trainer. After his death in a special attack, he received a three-rank promotion to Second Lieutenant. He was from Yokohama City, and he graduated from the Yokohama Tsurumi Higher Technical School. In October 1943, he became a member of the 14th Class of the Koga Pilot Training School in Ibaraki Prefecture.
He wrote the following final letter to his parents with a death poem in tanka form (31-syllable poem with lines of 5-7-5-7-7 syllables) at the end:
Please forgive me for not writing for a long time. I trust that there have been no changes and that you are working hard in the production battle on the home front.

The Greater East Asia War finally has entered an important stage. The decisive battle at Okinawa has become fierce, and it is a time that must be said to be a tremendous crisis. I simply will advance there directly. There truly is nothing that surpasses this as the long-cherished desire of a young man. I go gladly.

I have been prepared for some time since when I aspired to the skies, and I believe that you also were able to do this. I certainly must meet the expectations of you and everyone. I will go to fall bravely for the Emperor.

During the period of more than twenty years since I received life in this world, I regret that I have not shown any filial piety.

When I think about it, the last time was Yokohama Station in July of last year. However, I have no regrets. I am praying that you will have long lives with my portion and that the Greater East Asia War will be won in the end.

Today we arrived at Mukden [1]. Due to bad weather I will stay one night and head towards Kyūshū.

Young cherry blossom
Waits for spring
Going to fall
In midst of storm
Freed from branch

2nd Haja [2] Special Attack Squadron
Tatsuo Wakao
He wrote the following last letter to his parents with two death poems in tanka form at the end. The second poem is the same one that he had written in the above letter.
Dear Parents,

On eve before sortie.

My spirit always is calm without changing at all.

My current mental state is just to have a certain sinking. Now seeing the attacks of the American fiends in front of my eyes, my determination has increased all the more, and I am full of energy.

The last airfield from where I will take off is Chiran Airfield [3] at the southwest tip of Kyūshū. From here I will go to Okinawa by flying 600 kilometers, and I will dive on top of an enemy ship. Of course there will not be fuel to return.

If I am not able to find an enemy ship, I am determined to crash into some place where the enemy is located such as an island or an enemy military position.

In high spirits to the end, I happily will go and die in battle for the country.

I wanted to see Yoshio and Hiroko one more time, but that could not be done. I pray for their great happiness as I envision their images.

Even if I
With my plane
Shatter to pieces
My spirit eternally
Will protect country

Young cherry blossom
Waits for spring
Going to fall
In midst of storm
Freed from branch

Toshio
Toshio Wakao also left behind the following note for his parents.

Father, Mother, praying that you will enjoy many more years, I go on my first trip to the skies when I will not return.

2nd Haja Special Attack Squadron
Tatsuo
Below is the English translation of a note from Wakao that was discovered among the items left behind by Corporal Hisanari Matsumoto, also a 432nd Shinbu Special Attack Squadron member who died on May 28, 1945. "Older Brother" is a term of endearment used in Japan and does not indicate a family relationship. The four poems in tanka form (31-syllable poem with a syllable pattern of 5-7-5-7-7) are translated into two lines in English with the first line of 5-7-5 syllables and the second line of 7-7 syllables in the original Japanese.
Older Brother Matsumoto, you have always been with me at Koga, Sendai, and Ping'an [4]. At last we have been called to the long-awaited Special Attack Corps, and this also will be the same squadron where we will die together. As I think back on our many months of ups and downs, we will fall together. Also, let's be together again at Yasukuni [5].

Even flowers, young cherry blossoms fall purely
We boys of Yamato [6]

If I fall for the country
I will be outdone by any cherry blossom

Glory of being born a man in Japan
Although dying my cadaver will not return

My spirit eternally at Yasukuni
I will become a guardian spirit

Army Sergeant Tatsuo Wakao
---
Letters and poems translated by Bill Gordon
May 2018
The letters, poems, biographical information, and top photograph on this page come from Naemura (1993, 160-2, 474, 490, 527). The photograph below is from Jinja Shinpō Kikaku (1988, 75).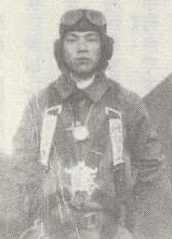 Sergeant Tatsuo Wakao
Notes
1. Mukden, now known as Shenyang, was the former name of a city in Manchuria.
2. Haja is a Buddhist word that means "crushing evil." The 431st, 432nd, and 433rd Shinbu Squadrons also have the names of 1st, 2nd, and 3rd Haja Squadrons respectively.
3. On May 18, 1945, Wakao moved from Chiran to Bansei, which was the airfield from where he took off on May 28.
4. Ping'an refers to a city in Manchuria where the Japanese Army had an airfield.
5. Yasukuni Jinja is Japan's national shrine to honor spirits of soldiers killed in battle.
Sources Cited
Jinja Shinpō Kikaku, ed. 1988. Chichiue-sama hahaue-sama: Sakura o kouru eirei no koe (Father, Mother: Voices of spirits of war dead who love cherry blossoms). Tōkyō: Jinja Shinpōsha.

Naemura, Hichirō. 1993. Rikugun saigo no tokkō kichi: Bansei tokkōtaiin no isho to isatsu (Army's last special attack base: Last letters and photographs of Bansei special attack corps members). Ōsaka: Tōhō Shuppan.