Last Letter of Corporal Keiki Yamaguchi to His Parents
On April 28, 1945, Corporal Keiki Yamaguchi took off from Chiran Air Base and died in a special (suicide) attack west of Okinawa at the age of 20. He was a member of the 76th Shinbu Special Attack Squadron. He piloted an Army Type 97 Fighter (Allied code name of Nate). After his death in a special attack, he received a promotion to Second Lieutenant. He was from Yamanashi Prefecture and was a member of the 13th Class of the Army Youth Pilot (Rikugun Shōhi) training program.
He wrote the following final letter addressed to his parents:
Dear Father and Mother,

April 26, 1945, 19:30. I am writing a last letter to my hometown.

I came to a base in Kyūshū early on the 20th, and time has passed quickly. Now I can take full advantage of my training in clouds of dust with a pitch black face burnt in the southern land.

Even though two days remain in my life, I feel cheerful in my heart like a child.

Dear Mother, please be glad. I am resolved that my death never, never will be useless. Living for an eternal cause with my spirit never dying, again I will fly back to your bosom. I am certain that you will take care of me. In the end there is nothing to write. Now it reminds me of a dream of our hometown.

I will make a taiatari (body-crashing) attack carrying photos of you, my family. Please think of me as the same dear person when I first left home.

Please give my regards to our near relatives and neighbors. I will send you a few packages of my personal effects along with the receipt. I am sending my savings account passbook along with my seal. Please use well this small amount of money.

Mother, please praise me since this one time will be good.

Please give my thanks to the people who have given me assistance.

Keiki, who is departing
---
Letter translated by Bill Gordon
March 2018
The letter and biographical information on this page come from Chiran Tokkō Irei Kenshō Kai (2005, 119, 181) and Osuo (2005, 202). The image of the actual letter below comes from Kawatoko (2008, 29).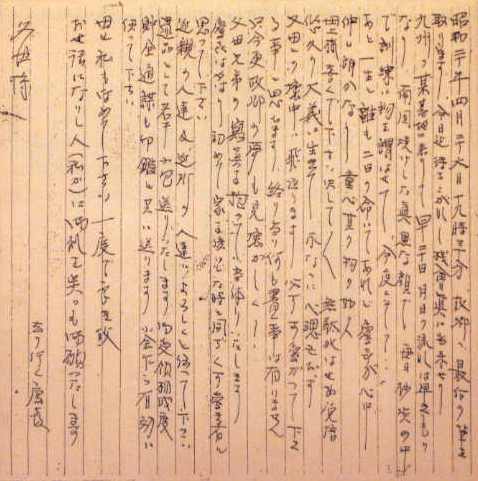 Keiki Yamaguchi's Last Letter to Parents
Sources Cited
Chiran Tokkō Irei Kenshō Kai (Chiran Special Attack Memorial Society), ed. 2005. Konpaku no kiroku: Kyū rikugun tokubetsu kōgekitai chiran kichi (Record of departed spirits: Former Army Special Attack Corps Chiran Base). Revised edition, originally published in 2004. Chiran Town, Kagoshima Prefecture: Chiran Tokkō Irei Kenshō Kai.

Kawatoko, Takeshi. 2008. The Mind of the Kamikaze. Minamikyūshū City, Kagoshima Prefecture: The Peace Museum for Kamikaze Pilots.

Osuo, Kazuhiko. 2005. Tokubetsu kōgekitai no kiroku (rikugun hen) (Record of special attack corps (Army)). Tōkyō: Kōjinsha.