Hamakaze Monument
Kure City, Hiroshima Prefecture
The destroyer Hamakaze, which means "beach wind," was part of the tokkō (special attack) fleet of ten ships led by the battleship Yamato toward Okinawa. On April 7, 1945, Hamakaze, battleship Yamato, light cruiser Yahagi, and three other destroyers were sunk by bombs and torpedoes dropped from attacking American aircraft between Kyūshū and Okinawa.
Kure Naval Cemetery was established in 1890. After the end of WWII with the dissolution of the Imperial Japanese Navy, the cemetery was preserved as part of Nagasako Park. The park has about 90 monuments erected after the end of the Pacific War to remember men who died in battle. The Battleship Yamato War Dead Monument stands at the front of the park.
A plaque to the left of the Hamakaze Monument lists the names and home prefectures of the 109 Hamakaze crewmen who died in battle during the Pacific War. The listing has the date of death for each of the men with the location and battle:
1 on December 10, 1941, in eastern Pacific Ocean during Hawaii Operation
2 on November 13, 1942, in Solomon Islands during Third Battle of Solomon Sea
3 on January 15, 1943, in Solomon Islands during Guadalcanal transport operations
1 on October 24, 1944, in Philippines during Battle of the Philippine Sea
1 on November 29, 1944, on sea in southern Honshū while escorting Shinano
1 on March 10, 1945, at Beppu Naval Hospital
100 on April 7, 1945, in Nansei Shotō Islands during Okinawa Surface Special Attack Operations
The listing above illustrates that the destroyer Hamakaze, after being built at the Uraga Dock Company in Kanagawa Prefecture and commissioned on June 30,1941, fought from the beginning of WWII until nearly the end. When the battleship Musashi sank during the Battle of Leyte Gulf on October 24, 1944, after being hit by torpedoes and bombs from American aircraft, the destroyer Hamakaze picked up and brought on board 904 of the ship's 1,390 survivors.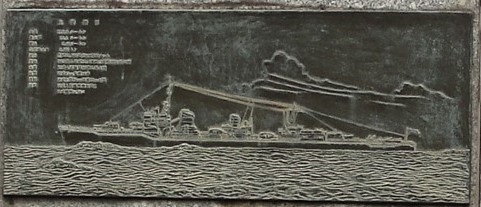 Bronze plaque on monument front with
bas-relief image of destroyer Hamakaze
The bronze plaque in the middle of the monument's face has a bas-relief image of Hamakaze along with a listing of her principal features translated below:
Principal Features

Total Length: 118.5 meters
Widest Breadth: 10.8 meters
Depth: 6.46 meters
Official Displacement: 2,500 tons
Speed: Officially 35 knots at 52,000 horsepower
Main Guns: 6 3rd Year Type 50 caliber 12.7-cm guns on 3 twin mount Model C gun turrets
Torpedo Tubes: 8 Type 92 dual launch tube mounts
Torpedoes: 16 Type 93 61-cm torpedoes
Machine Guns: 28 Type 96 Model 2 25-mm [1] guns and 4 13-mm guns
Depth Charges: 1 Type 95 Model 1 depth charge projector and 36 Type 91 depth charges
Hamakaze was one of 19 Kagero-class destroyers. Two other Kagero-class destroyers, Isokaze and Yukikaze, were also part of the special attack mission led by the battleship Yamato.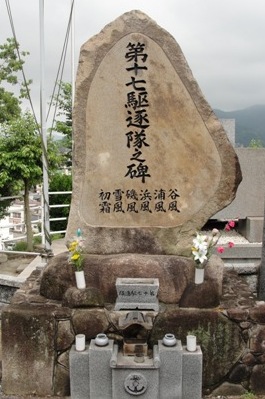 Destroyer Division 17 Monument
Nagasako Park also has a monument to remember the war dead of Destroyer Division 17, which included the destroyers Tanikaze, Urakaze, Hamakaze, Isokaze, Yukikaze, and Hatsushimo. Along with Hamakaze, three other Destroyer Division 17 ships (e.g., Isokaze, Yukikaze, and Hatsushimo) were part of the tokkō (special attack) force led by the battleship Yamato toward Okinawa. Isokaze and Hamakaze sank during the special attack operation, but Yukikaze and Hatsushimo survived and picked up survivors from the battleship Yamato and the other ships that sank. On June 9, 1944, the destroyer Tanikaze sank and lost 114 crewmen when torpedoed by an American submarine. On November 21, 1944, Urakaze was torpedoed by an American submarine and lost 228 men when the ship exploded.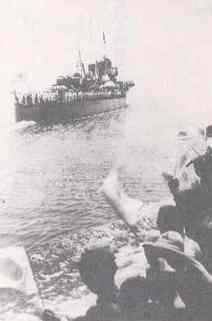 Destroyer Hamakaze just after
commissioning on June 30, 1941
There were 256 Hamakaze crewmen who were rescued from the sea by the destroyer Hatsushimo several hours after the Hamakaze sank. Abe (2005) gives three different times for when Hamakaze split in two and sank (p. 47 - 12:58 p.m., p. 129 - 1:51 p.m., p. 141 - 12:59 p.m.) with no explanation for the discrepancies. The battleship Yamato sank at 2:23 p.m.
Note
1. The monument's plaque mistakenly has 25-cm and 13-cm for Hamakaze's machine guns rather than 25-mm and 13-mm.
---
The historical information on this web page about the destroyer Hamakaze comes from the following book:
Abe, Saburō. 2005. Tokkō Yamato Kantai (Yamato Special Attack Fleet). Tokyo: Kojinsha.