Battleship Yamato War Dead Monument
Kure City, Hiroshima Prefecture
The Imperial Japanese Navy established a cemetery in Kure in 1890. After the war the national government maintained this former naval cemetery until it was transferred to Kure City in 1986. The former cemetery is now part of Nagasako Park, which includes about 90 monuments erected after the end of World War II in order to remember men who died in battle. The park still has 169 graves from before the end of the war.
The Battleship Yamato War Dead Monument was erected at Nagasako Park in 1979 on April 7, the 34th anniversary of the ship's sinking. Yamato, the world's largest battleship, was built nearby at Kure Naval Arsenal and was commissioned on December 16,1941. The monument is the first one seen by Nagasako Park visitors.
On April 6, 1945, Yamato led a fleet of ten ships toward Okinawa on a tokkō (special attack) mission. Yamato and five other ships were sunk the next day by numerous torpedoes and bombs dropped by American planes.
Several bronze plaques around the wall at the back and sides of the Battleship Yamato War Dead Monument list the names of over 3,000 men aboard Yamato who died in battle when the ship sank on April 7, 1945. The names of the war dead are organized by the men's home prefectures. A plaque on the wall to the left of the monument summarizes Yamato's battle history as translated below:
Battleship Yamato War Record

November 4, 1937 - keel laid down at Kure Naval Arsenal as Battleship No. 1
August 8, 1940 - launched
December 8, 1941 - outbreak of Greater East Asia War
December 16, 1941 - commissioned and hoisted military flag, sailed to Hashirajima, assigned to Combined Fleet's Battleship Division 1 (main unit)
February 12, 1942 - after becoming flagship of Combined Fleet Commander in Chief Yamamoto, served in main unit for Midway Operations and supported Guadalcanal Operations, mainly anchored at Truk Island
February 11, 1943 - flagship changed to Musashi, became Ship 2 of Battleship Division 1
June 27, 1943 - supported all operations as central part of Combined Fleet
December 25, 1943 - hit by torpedo from U.S. submarine between Yokosuka and Truk Island during emergency transport operations of 4,000 emergency troop reinforcements for Guadalcanal Island
February 25, 1944 - assigned to Unit 1 of Second Fleet Battleship Division 1 commanded by Vice Admiral Matome Ugaki
May 11, 1944 - departed Lingga anchorage to participate in "Operation A"
June 19-20, 1944 - participated in Battle of Philippine Sea
June 24, 1944 - returned to Hashirajima by way of Nakagusuku Bay, Okinawa
July 16, 1944 - proceeded to Lingga anchorage and carried out training for decisive battle
October 18, 1944 - made sortie from Lingga anchorage to start Sho Operation No. 1
October 23-26, 1944 - participated in Second Battle of the Philippine Sea (Kurita fleet flagship, Ugaki battleship division flagship)
November 20, 1944 - returned to Kure
March 19, 1945 - fought at Hiroshima Bay with American carrier-based planes
April 5, 1945 - start of Kikusui Operation No. 1
April 6, 1945 - departed toward Okinawa as flagship of tokkō (special attack) fleet under command of Vice Admiral Seiichi Ito
April 7, 1945 - sank at 2:23 p.m. after fighting fiercely for more than 2 hours with 386 aircraft from American high-speed carriers
The base of the Battleship Yamato War Dead Monument has a photograph of the ship.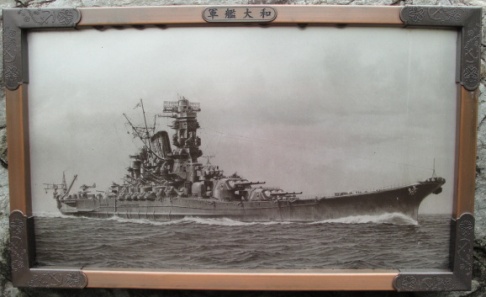 Photograph of battleship Yamato on monument base
A plaque on the wall at the left side of the monument summarizes key facts about the battleship Yamato as translated below:
Battleship Yamato Ship History

Keel laid down - November 4, 1937
Launched - August 8, 1940
Commissioned - December 16, 1941

Principal Facts

Crew Members: 3,000 men
Length: 263 meters
Widest Breadth: 38.9 meters
Total Displacement: 72,809 tons
Speed: 27.46 knots
Cruising Range: 3,500 nautical miles at 27 knots, 10,000 nautical miles at 16 knots

Armament Main Facts

Main Guns: 3 triple turrets with 45-caliber 46-cm guns (9 guns) with range of 41,400 meters
Secondary Guns: 2 triple turrets with 15.5-cm guns (6 guns)
Antiaircraft Guns: 12 twin mounts with 12.7-cm guns (24 guns)
Machine Guns: triple mounts with 25-mm guns (102 guns), 48 13-mm guns
Aircraft: 6 reconnaissance and observation seaplanes
Catapults: 2
Radar: 5 sets
Hydrophone: 1 set
Transponder: 1 set
Rangefinders: 4 15-m rangefinders, 1 10-m rangefinder, 2 8-m rangefinders
Searchlights: 6 150-cm searchlights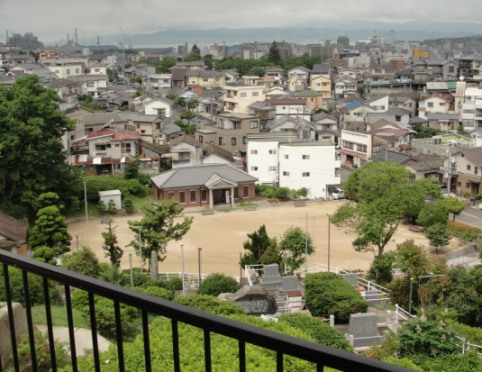 View of Kure City from hill at Nagasako Park
(park monuments in foreground
and Kure Harbor in background)
A scene from the 2005 Japanese movie Otokotachi no Yamato (Men's Yamato) takes place at the Battleship Yamato War Dead Monument in Nagasako Park.
Kure City also has the Yamato Museum and Battleship Yamato Monument.