Battleship Yamato Monument
Kure City, Hiroshima Prefecture
The giant battleship Yamato, symbol of the Imperial Japanese Navy, was constructed at the Naval Arsenal in Kure from 1937 to 1941. Yamato served as flagship of the Combined Fleet for much of the Pacific War. On April 6, 1945, battleship Yamato led a fleet that also included the light cruiser Yahagi and eight destroyers toward Okinawa on a special (suicide) attack mission. Yamato and five other Japanese ships were sunk the next day by numerous torpedoes and bombs from American planes.
In 1969, a monument was erected in Kure City in memory of battleship Yamato next to the shipyard where the giant battleship was constructed. The memorial remembers not only the over 3,000 men who died when Yamato sank but also those people involved with the battleship's design and construction. The top half of the monument resembles the battleship's bridge and mast.
The front of the monument has three plaques with information about battleship Yamato. The largest plaque at the monument's base summarizes the ship's construction, battle history, and reasons for the monument's erection. Below is an English translation of this plaque:
Story of Monument's Erection

In November 1937, the keel of battleship Yamato, temporarily named Battleship No. 1, was laid down at the shipbuilding docks that can be seen at the lower left side of this monument. The ship was launched in absolute secrecy on April 8, 1940, and was completed the next year on December 16, 1941. Yamato immediately began long military service in the Pacific War as flagship of the Combined Fleet. On April 7, 1945, with the Japanese people knowing nothing about it, the largest battleship of all time sank in the seas southwest of Kyūshū together with more than 3,000 men.

Regarding naval battles up to that time (1940), it was the age of large warships and huge guns in which victory was decided with preemptive attacks from a long distance that could not be reached by enemy guns. Yamato's main guns were 46 centimeters in diameter and 20 meters in length. They had huge shells that were two meters long with a weight of 1.5 metric tons and a range of 42,000 meters, which could fly from here to near Iwakuni. This size and the huge guns, unparalleled in the world, were top secrets of Yamato.

The three triple turrets for these large guns were 13 meters in diameter and weighed more than 2,700 metric tons. The turrets were constructed to store the shells. There was special armor between 41 and 46 centimeters thick made of manufactured steel that protected the main parts of these turrets and the hull.

Battleship Yamato was designed specially in order to carry the three gun turrets, and therefore the ship was extraordinarily wide. The displacement exceeded 69,000 metric tons, but even despite that she was a high-speed craft of 27.5 knots.

The construction of the giant Yamato took more than 50,000 workers from the Kure Naval Arsenal, who devoted their superior skills and spirit to the task. The ship was completed in the short time of four years at the enormous cost of 110 million yen (value at that time) with the support of about 300,000 persons in total.

On December 8, 1941, the easy sinking of large battleships by aircraft torpedoes during the Pearl Harbor attacks at the outset of the Pacific War and the following Naval Battle off Malaya ironically provided proof to the Japanese Navy and crushed their dream of supremacy by large warships and huge guns. Soon the war situation turned against Japan. Yamato, which had to save Okinawa from imminent danger where the enemy had command of the air, made a sortie as the flagship of a tokkō (special attack) fleet with fuel for only one way and with no air cover. The crewmen were aware that they would never return again alive. Yamato tried to display the power of her enormous guns, but it was truly regrettable that the ship did not realize the ambitious plan and fell as a flower in defense of the country.

However, through research by the Japanese Navy for 80 years since the Meiji Restoration, after the war's end Japan soon showed its capabilities in heavy industries as steelmaking, machinery, and electrical equipment and in a variety of industries, especially shipbuilding technology. Today, our country as a shipbuilding kingdom has reached the point to launch out to the world. This is the reason why it can be said, "Even though Yamato sank, that technology did not sink."

Battleship Yamato was the largest and strongest battleship in the 20th century. Moreover, from the perspective that the ship was the crystal of respected technology, she was designed by the hands of Japanese people, and she was constructed by the hands of Kure City citizens at Kure Naval Arsenal. Here this elevated spot in Miyahara provides a sweeping view of the remains of Kure Arsenal, where Yamato was made. This monument was erected with help from supporters nationwide. Praying for peace, we admire the achievements brought about by our forefathers' hard work, remember the ship's heroic end, and comfort the spirits of those men who died. This monument serves to honor them forever.

People hereafter, we hope that by humbly recording the above history that you may understand the reasons for this monument's erection and that this monument may be maintained and preserved forever.

August 8, 1969
Anniversary of Battleship Yamato's Launching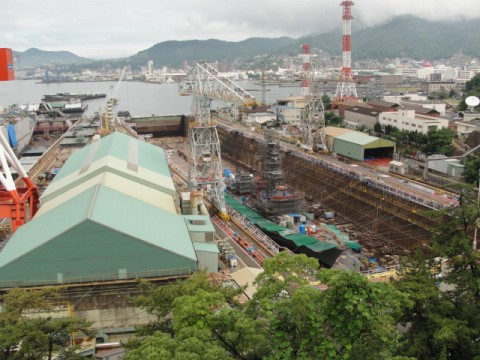 IHI (Ishikawajima-Harima Heavy Industries) shipyard at location
where battleship Yamato was constructed (view from
pedestrian bridge across road next to Battleship Yamato Monument)
Another plaque on the monument's front summarizes the events that occurred on key dates in battleship Yamato's history as translated below:
Battleship Yamato War Record

July 20, 1936 - decision on warship class
August 21, 1937 - order to construct sent to Kure Naval Arsenal
November 4, 1937 - ceremony to lay down keel (at shipbuilding dock) (temporarily named Battleship No. 1)
August 8, 1940 - launching and naming ceremony (named Yamato)
October 16, 1941 - trials begin (Shutoku Miyazato, Pre-Commissioning Unit Commander)
October 30, 1941 - official trials end
December 7, 1941 - firing trials completed for 9 46-cm main guns
December 8, 1941 - Greater East Asia War declaration of war
December 16, 1941 - commissioning and handover ceremony (1st Commander Gihachi Takayanagi)
February 12, 1942 - became flagship of Combined Fleet with Admiral Yamamoto on board
May 29, 1942 - made sortie for Midway Operations
August 28, 1942 - arrived at Truk Island and supported operations at Guadalcanal
February 11, 1943 - flagship of Combined Fleet changed to Musashi
May 8, 1943 - returned to mainland (change in command during this period to 2nd Commander Chiaki Matsuda)
- docked at Kure Arsenal for more than 100 days when Type 21 radar was installed, and afterward flagship's armament was modified with 2 secondary gun turrets removed from both sides and 24 12.7-cm high angle guns, 113 25-mm machine guns, and 4 13-mm machine guns added in order to strengthen the ship's anti-aircraft gun capabilities
August 20, 1943 - after standing by at mainland, left harbor toward Truk Island
August 23, 1943 - arrived at Truk Island (change in command to 3rd Commander Takeji Ono)
December 12, 1943 - left Truk Island toward Yokosuka
December 25, 1943 - hit by torpedo while returning from Yokosuka to Truk Island, but not realized until after reaching harbor when first known
January 10, 1944 - left harbor toward Kure to repair damage
January 28, 1944 - carried out repairs of damaged section at Kure Arsenal No. 4 Dock (change in command to 4th Commander Nobuei Morishita)
March 18, 1944 - left Kure dock, during this period Combined Fleet officers landed at Hiyoshi (Yokohama), flagship Musashi ceased this duty and returned to Kure
April 26, 1944 - switched with Musashi as 2nd Fleet flagship, arrived at Manila
May 1, 1944 - arrived at Lingga anchorage
June 13, 1944 - made sortie from Batjan Island together with Musashi (Operation A)
June 24, 1944 - returned to Kure by way of Okinawa
July 9, 1944 - left Kure transporting infantry troops
July 16, 1944 - arrived at Lingga anchorage
October 22, 1944 - made sortie from Brunei and become flagship of 2nd Fleet with Vice Admiral Kurita on board, participated in Sho Operation No. 1
October 24, 1944 - companion ship Musashi lost
October 26, 1944 - off the coast of Samar Island fought with distinction by hitting enemy aircraft carrier with first shots from main guns
November 25, 1944 - returned to Kure dock (change in command to 5th Commander Kosaku Ariga)
April 6, 1945 - departed Mitajiri anchorage as flagship of Operation Ten-Go Kikusui Special Attack Fleet with Vice Admiral Seiichi Ito aboard leading the fleet ready to die with [light cruiser] Yahagi and 8 destroyers with fuel for one way
April 7, 1945 - on way toward Okinawa experienced repeated air attacks from a total of over 1,000 enemy aircraft, after fighting fiercely for about 3 hours finally turned on side, blew up, and sank in the sea 60 kilometers northwest of the island of Tokunoshima in Kagoshima Prefecture
survived - 269 men
killed in action - 3,063 men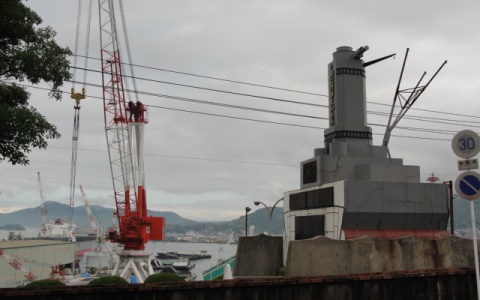 Side view of Battleship Yamato Monument
with Kure Harbor in background
A third plaque on the monument's front summarizes key information about battleship Yamato such as size and armament:
Principal Facts About Battleship Yamato

Hull Structure

Length between perpendiculars: 244.00 meters
Total length: 263.00 meters
Waterline length: 256.00 meters
Waterline maximum width: 36.90 meters
Greatest width of bulge under waterline: 38.90 meters
Depth: 18.92 meters
Draught: 10.40 meters (official trial average of forward and rear)
Speed: 27.46 knots (at full power of 153,550 horsepower)
Displacement (official trial): 69,100 metric tons
Displacement (full load): 72,800 metric tons
Fuel oil load: 6,300 metric tons
Cruising range: 7,200 nautical miles (at 16 knots)

Machinery

Main machinery: 4 high pressure, high temperature turbines
Shaft horsepower: Forward with 4 shafts - 153,550 horsepower, backward with 2 shafts - 45,000 horsepower
Number of revolutions: 225 per minute
Propeller diameter: 6 meters
Boilers: 12 single-fuel fired
Steam: 25 kg/cm2 pressure, 325º C temperature

Defense

Protective steel armor plating: 200-mm MNC steel
Ship's side armor: 410-mm VH (Vickers hardened) special steel

Armament

Main guns: 9 46-cm 45-caliber guns in 3 triple turrets
Secondary guns:12 15.5-cm 55-caliber guns in 4 triple turrets
High angle guns: 12 12.7-cm 50-caliber guns in 6 mounts
Machine guns: 24 25-mm guns and 8 13-mm guns

Aircraft

Catapults: 2 revolving type
Planes: 6 reconnaissance floatplanes

Other Weapons

Microwave radar: 5 sets
Hydrophone: 1 set
Sonar: 1 set
Rangefinders: 4 15-m, 1 10-m, 4 8-m
Searchlights: 8 150-cm

Number of Crewmen

2,500 men

Notes

The above table shows Yamato's key data when newly constructed. In July 1944, the secondary gun turrets were removed from both sides, and 24 12.7-cm high angle guns and 113 25-mm machine guns were added to strengthen the ship's anti-aircraft gun capabilities.
Kure City also has the Yamato Museum and Battleship Yamato War Dead Monument.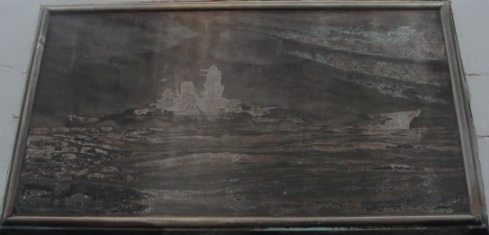 Faded image of battleship Yamato
on front of Battleship Yamato Monument in Kure City