Hokota Army Flight School Monument
Hokota City, Ibaraki Prefecture
The Banda Squadron, the Japanese Army's first air squadron to carry out special (suicide) attacks in the Philippines in the first half of November 1944, was formed at Hokota Air Base in Ibaraki Prefecture on October 21, 1944. Five squadron members died on November 5 over the skies of Nichols Field near Manila, and another seven squadron member lost their lives in battle between November 12 and 20 in Leyte Gulf (Tokkōtai Senbotsusha 1990, 254-5).
A total of 24 special attack squadrons were formed at Hokota Air Base or at its branch school at Haramachi Airfield. These squadrons included the 45th Shinbu Squadron led by First Lieutenant Hajime Fujii (Osuo 2005, 197), whose wife committed suicide to allow her husband to be accepted as a volunteer for a suicide squadron (see story on Censored Suicide web page).
The black stone monument has engraved in front "Hokota Army Flight School Monument." The back of the monument has engraved the following history of the flight school:
Hokota Army Flight School was established in December 1940 in an area of about 800 hectares in the former combined towns of Kamishima and Shiratori and 400 hectares in the former Shingū Town. It was a place where education and training took place for flight officers of light bombers and attack aircraft, and research also was carried out here.

When the Greater East Asia War became more and more fierce, the Hokota Flight Training Division was formed in June 1944, and it was reorganized in the next year in July 1945 into the 26th Hikōdan (Air Brigade) as a true operational group with a key role. During this period, special attack squadrons came into existence, and Hokota became a training base. Starting with the Banda Squadron, a total of 24 squadrons were formed as special attack squadrons for our country including the Tesshin (Iron Will) Squadron, Kinnō (Loyalty to Emperor) Squadron, Kōkon (Emperor's Spirit) Squadron, four Shinbu (Military Might) squadrons, 12 Kamiwashi (Divine Eagle) Squadrons, and four other squadrons. Among these, 67 men in a total of 11 squadrons participated in battles and died in special attacks in the Philippines, Okinawa, and east of Kashimanada in Ibaraki Prefecture.

Moreover, many officers and men gave their lives in the performance of their duties during school training and during day and night intensive training of newly formed units. Already 29 years after the end of the war, it is truly deeply regrettable that the air base site is in extreme ruins and that there is nothing left to think back on the past. Here local residents and war comrades together remember the spirits of those who died for our country. With prayers for the pacification of their spirits and for world peace, we erect here the Hokota Army Flight School Monument.

October 1974
The monument's right side has engraved the names of the special attack squadrons formed at Hokota and the squadron members who died in suicide attacks. The left side shows the names of those who died during training or attacks on the base.
An annual memorial ceremony is held at the monument site on the third Sunday of October.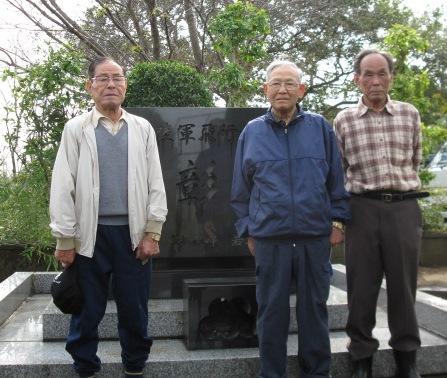 Three former Hokota Air Base ground personnel
(October 17, 2009)
Sources Cited
Osuo, Kazuhiko. 2005. Tokubetsu kōgekitai no kiroku (rikugun hen) (Record of special attack corps (Army)). Tōkyō: Kōjinsha.

Tokkōtai Senbotsusha Irei Heiwa Kinen Kyōkai (Tokkōtai Commemoration Peace Memorial Association). 1990. Tokubetsu Kōgekitai (Special Attack Corps). Tōkyō: Tokkōtai Senbotsusha Irei Heiwa Kinen Kyōkai.