Nakano Monument
Minamisōma City, Fukushima Prefecture
Iwao Nakano volunteered for the first kamikaze unit formed by Vice Admiral Takijirō Ōnishi at Mabalacat Airfield in the Philippines. Nakano piloted the second plane of the Shikishima Squadron led by Yukio Seki. On October 25, 1944, five men in the squadron died in suicide attacks on American ships in Leyte Gulf.
Nakano's schoolmates from Haramachi Elementary School and Sōma Junior High School collected funds to erect a monument in 1980 to honor Nakano. The stone monument with a bust of Nakano on top stands in Yo no Mori (Night Forest) Park, where Haramachi Elementary School used to hold its annual sports day.
A replica of the 250-kg bomb carried by Nakano's Zero fighter is located in front of the monument, which stands next to the children's playground. The park has several other monuments, including one in honor of Toshimi Shiga, a Haramachi native who died on November 6, 1944, as a member of the Kamikaze Special Attack Corps 4th Unit.
The monument's plaque has the following inscription:
Ensign Nakano's name was Iwao, and he was born in Haramachi in 1925. His father's name was Shōtarō, and his mother's name was Hideyo. In 1942, resolved to serve his country, he joined the Tsuchiura Naval Air Group. Soon the war situation reversed, and he saw the country on the brink of a crisis that would determine its fate.

With indignation and at the risk of his life, he joined the Kamikaze Special Attack Corps Shikishima Squadron to try to reverse this situation. Before dawn on October 25, 1944, at the age of 19, he made a surprise attack on an enemy ship in Leyte Gulf, and he bravely died in battle action with his body as an artillery shell.

He received a special promotion of two ranks to Ensign, and his distinguished service was recognized publicly. With great affection from his friends of his same class in elementary school and junior high school, we erect this monument to make known forever his great devotion.
The above inscription incorrectly states that Nakano attacked before dawn on October 25, 1944. He took off from Mabalacat Airfield at 7:25, and the squadron did not sight enemy ships until 10:40 (Kaneko 107-8, 112).
Source Cited
Kaneko, Toshio. 2001. Shinpū tokkō no kiroku (Record of Shinpū Special Attacks). Tokyo: Kojinsha.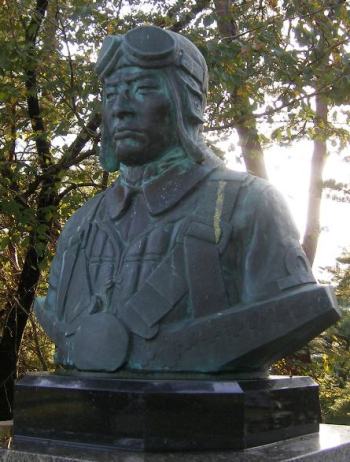 Bust of Iwao Nakano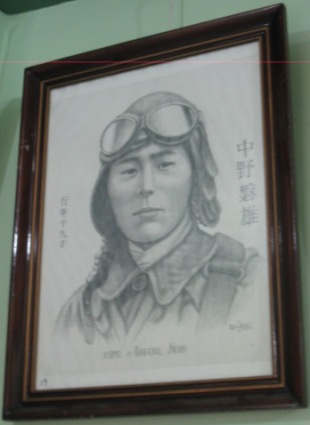 Portrait of Iwao Nakano by Daniel Dizon
(at Dizon Kamikaze Museum
at Angeles City, Philippines)