Hiroshi Tatano (blue jacket in center),
201st Air Group ground crew member,
looks at Zero fighter model hanging from
ceiling at Dizon Kamikaze Museum
Dizon Kamikaze Museum
Angeles City, Philippines
This museum dedicated to Japanese kamikaze pilots has attracted quite a bite of interest from the media over the years due to its surprising location in the Philippines. Daniel Dizon, who has run the museum in his home in Angeles City for many years, became very interested in learning more about kamikaze pilots after reading The Divine Wind (1958) by Captain Rikihei Inoguchi and Commander Tadashi Nakajima in 1965. Dizon, born in 1930, lived in the center of Angeles Town near a Japanese base and in an area with several airbases, so he had opportunities to meet several kind Japanese soldiers and airmen during the wartime occupation for just over three years. American soldiers who came to Angeles in 1945 talked about Japanese suicide squadrons, but he did not know anything more about them at that time even though he lived close to airfields from which many kamikaze pilots took off on suicide missions against American ships.
In addition to Dizon's home museum about kamikaze pilots, he has been involved for several decades in the erection of monuments and historical markers to remember Japanese kamikaze pilots in the Philippines. He convinced local tourism officials in nearby Mabalacat Town to erect monuments at the former sites of Mabalacat East Airfield and Mabalacat West Airfield from where the first official Kamikaze Special Attack Corps units carried out successful attacks against the American fleet on October 25, 1944. He has encountered negative opinions from fellow Filipinos regarding his desire to honor the heroism and humanity of the kamikaze pilots, but he has maintained his strong positive opinions about kind Japanese people he met during the war and has continued his activities to remember the historical importance to the Philippines of Japan's Kamikaze Special Attack Corps.
The Dizon Kamikaze Museum occupies one large room off Dizon's living room and contains a wide variety of artifacts, photographs, and drawings. Dizon studied, worked, and taught in the visual arts, and the museum contains several of his drawings related to kamikaze and to soldiers he met during WWII including the following:
separate portraits of five members of the Kamikaze Special Attack Corps Shikishima Squadron led by Lt. Yukio Seki
Enriqueta (Dizon's wife) singing and dancing on wing of Zero fighter
Dizon as boy playing on shoulders of Army Sergeant Yamazaki, who taught Japanese at school
Japanese Army bomber pilot in cold-weather flying suit and dress sword
Dizon as boy with group of Japanese pilots listening to one pilot tell about shooting down American fighter
After erection of the first kamikaze monument in Mabalacat in 1974, several Japanese people came to visit Mabalacat and meet Daniel Dizon. Visitors included the widow of Vice Admiral Takijirō Ōnishi (see photo at left) and Saburō Sakai, one of Japan's greatest fighter pilots. During the 1970s and 1980s, Dizon did historical research about kamikaze pilots in the Philippines and collected Japanese military weapons, equipment, and other artifacts that later became part of exhibits displayed in the Dizon Kamikaze Museum.
The museum exhibits include a mannequin dressed in a Japanese pilot flight suit with a dress sword and hachimaki (headband), a Zero fighter model hanging from the ceiling, bombs from the 201st Air Group stationed at Mabalacat, and a small Japanese home altar with the characters of "kamikaze" written on top. Various wartime photos displayed along the walls show Filipino-Japanese friendships, kamikaze pilots at Philippine air bases such as Mabalacat and Nichols, American ships with heavy smoke rising after kamikaze hits, and kamikaze pilots at Japanese mainland bases during the Battle of Okinawa.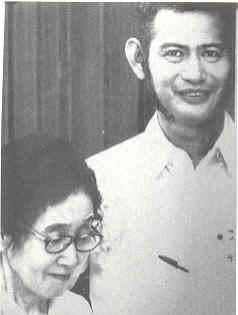 Daniel Dizon with widow
of Vice Admiral Takijirō Ōnishi,
founder of Kamikaze Corps (1976)
An exhibit above the kamikaze altar shows the photograph of kamikaze pilot Masahisa Uemura holding his young daughter Motoko. Below the photo is both the Japanese letter he wrote to his daughter and an English translation. Dizon also displays his 2007 autobiography Firipin shōnen ga mita kamikaze (Kamikaze seen by Philippine youth). Two Japanese persons came from Japan to his home to interview him each day for a couple of weeks to gather material to ghostwrite this autobiography. The museum room also has a map of kamikaze air bases in Pampanga Province such as Angeles, Clark, and Mabalacat.
The glass display cases contain various items such as armament, military equipment, Navy caps, and photographs of visitors from Japan with Dizon. One interesting photo from 1978 shows Dizon dressed up as a Japanese pilot for a historical reenactment.
The public may visit Dizon Kamikaze Museum at no cost, but an appointment must be made in advance for admittance. Daniel Dizon's contact information from his business card (as of August 2014) is below:
Daniel H. Dizon, B.F.A.
Visual Artist, Collector, Local Historian, WWII Eyewitness, Writer, Reenactor, Historical Researcher
Owner & Curator: Dizon Kamikaze Museum
E-mail: mayadnunag@yahoo.com
Telephone: 045 6247783
Date of visit: October 25, 2009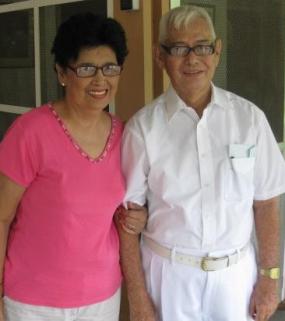 Daniel Dizon with wife Enriqueta
outside his Angeles City home
(October 25, 2009)