Ōita Gokoku Jinja Yokaren Monument
Ōita City, Ōita Prefecture
Ōita Gokoku Jinja, founded in 1875, is a Shintō shrine to remember those persons from Ōita Prefecture who died in wars to protect Japan (gokoku means "defend country"). The monuments on the grounds of Ōita Gokoku Jinja include one erected in 1992 to honor Navy Kō Class Yokaren (Preparatory Flight Training Program) graduates from Ōita Prefecture who gave their lives in battle in the Pacific War.
Yokaren graduates who died in battle included many members of the tokkōtai (Special Attack Corps) who carried out suicide attacks against Allied ships near the end of World War II.
The plaque on the base of the Ōita Gokoku Jinja Yokaren Monument has the following words:
Facing the grand peaks of Yufu and Tsurumi and enjoying a panoramic view below of deep blue Beppu Bay, here at the summit of Shoeizan, the spirits of 190 war dead of the Kō Class of the Yokaren (Preparatory Flight Training Program) from Ōita Prefecture now sleep peacefully.

Kōhi, that is the Navy Kō Class Hiko Yoka Renshusei (Preparatory Flight Training Program), was established during the height of the Sino-Japanese War because of the urgent need for training aircraft officers and crewmen. On September 1, 1937, 250 persons who were carefully selected from secondary schools throughout the country joined the Yokosuka Naval Air Group as the 1st Class. Afterward as the Pacific War grew more intense, a total of 139,720 youths, until the 16th Class (the last one), passed through the gates of various air groups with a deep sense of patriotism. Nearly all of them were budding young cherry blossoms, flowers in their mid-teens who threw away their pens from school.

However, there were more and more victims as the war situation worsened. The spirits of Kō Yokaren (Kōhi) graduates who fell as flowers in the end of the skies and the bottom of the seas actually climbed to 6,778 men. There were numerous comrades who met a violent end in repeated air attacks and comrades who bravely went to certain death as Special Attack Corps members. One of these men died in battle and left the following song:

If I die
Follow after me
To eternity
Defend our country
People in every place

This monument, a precursor for the entire country, was erected for the spirits of Kōhi graduates from this prefecture. As we recall the noble virtues of these spirits who became the foundation of our peaceful Japan, we would like to pass on to future generations the real history of the eight years of the Kō Yokaren (Kōhi). Together with cherry trees representing the 16 Kō Yokaren classes on the southern part of this Shintō shrine grounds, this monument signifies our sincere prayers of peace for these spirits.

September 27, 1992
Ōita Prefecture Kō Yokaren Survivors and Bereaved Family Members
A stone plaque on the left side of the area in front of the monument gives the history of the monument's erection:
After the end of the Pacific War, 47 years have passed already. With today's peace and prosperity, the history of Kō Yokaren (Kōhi), in which men fought with patriotic zeal and many young cherry blossoms fell, continues to fade.

The Ōita Prefecture Kō Yokaren (Kōhi) Association held memorial services according to Shintō rites here at the Gokoku Jinja every other year in order to remember the virtues of those men from this prefecture who died. However, it has been our fervent wish for many years to erect a monument to our dead comrades with our own hands.

One Kō Yokaren (Kōhi) survivor, Katsumi Suzuki, for some time on his own collected photographs of men who died, and he completed most of the project some time ago. Based on this opportunity, interest in erecting a monument gained momentum. In September 1991, at an Ōita Prefecture Kō Yokaren (Kōhi) Association general meeting, all matters concerning erection of the monument were entrusted to the Association Board, and the leadership promptly started to try to acquire land that could be used. At the end of many twists and turns, we received an offer of this splendid piece of land through a resolution at the Gokoku Jinja General Meeting of Representatives at the end of the same year. In February of the following year, we began full-scale activities such as initiation of an Erection Committee and planning for donations. The groundbreaking ceremony was held on June 7, 1992. All of the work was completed one day in September, and today we hold the unveiling ceremony.

Finally, Kō Yokaren (Kōhi) bereaved family members and survivors express our profound gratitude to shrine authorities, various organizations, supporters, monument erection workers, and persons who kindly gave generous donations.

September 27, 1992
Committee to Erect Monument for Kō Yokaren (Kōhi) War Dead from Ōita Prefecture
Masakazu Abe, Chairman
The following last letters were written by Yokaren graduates from Ōita Prefecture: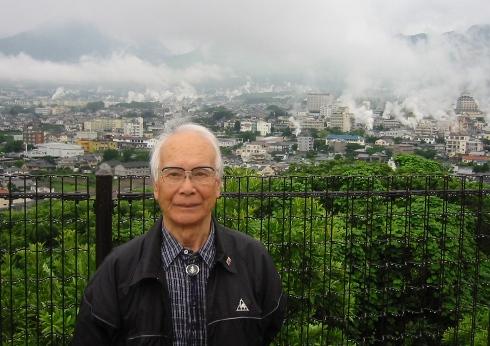 Katsumi Suzuki, member of 12th Kō Class of Yokaren who
supported erection of Ōita Gokoku Jinja Yokaren Monument,
stands at observatory overlooking Beppu City (Ōita Prefecture)
with steam rising from its many hot springs (June 25, 2004)