Tsukuba Naval Air Group Monument
Kasama City, Ibaraki Prefecture
This monument erected in June 1999 honors the men who died during the Pacific War from Tsukuba Naval Air Group, which provided flight training from 1934 until the end of the war in 1945. About 1,500 men received training at Tsukuba Air Base, and 73 were members of the Kamikaze Special Attack Corps who died in special attacks in the Philippines and Okinawa. During the Battle of Okinawa, 55 men made sorties in Zero fighters from Kanoya Air Base in southern Kyūshū as members of six Tsukuba Squadrons in the Kamikaze Corps. The dates that each squadron made sorties in 1945 and the number of men who died are as follows (Osuo 2005, 197-9):
No. 1 - April 6, 17 men
No. 2 - April 14, 3 men
No. 3 - April 16, 7 men
No. 4 - April 29, 5 men
No. 5 - May 11, 9 men
No. 6 - May 14, 14 men
The Tsukuba Naval Air Group had its beginnings in 1934 as a detachment of the Kasumigaura Naval Air Group, also based in Ibaraki Prefecture. Tsukuba became an independent air group in December 1938 as part of the 11th Training Combined Air Group. In March 1944, the Hikōtai associated with Tsukuba Air Base moved to Tsuiki Air Base in Fukuoka Prefecture, and the Hikōtai at Ōita Air Base moved to Tsukuba as a replacement. The Tsukuba Air Group at that time became a training air group for fighter planes.
The monument has the following inscription:
In June 1934, this Air Group was formed and began pilot instruction with training planes. In March 1944, its responsibility changed to training fighter plane crewmen on Zero fighters. In May 1945, it became an operational combat unit for Shiden fighters. The war ended in August.

Can you believe it?

The young men who left here fought bravely in various places over a wide area, and they nearly all died in the skies of the southern seas. Also, from October 1944 onward, many of them gave their lives as members of the Kamikaze Special Attack Corps during battles in the Philippines and at Okinawa.

There were 55 men who made sorties and died during the Battle of Okinawa in just the Tsukuba Squadrons, which were formed here.

We erect this monument as we pray here, full of mourning, for the repose of their spirits. We also wish for eternal peace.
The Tsukuba Naval Air Group Monument was moved in 2017 from the original location where it was erected in 1999. The monument now stands next to the Air Group's original front gate near the original headquarters, which now is part of Tsukuba Naval Air Group Museum. Tomobe Hospital is in the same area, and its grounds have some Air Group remains from the war such as a stone drill platform.
The Kasama Museum of History and Folklore, located in the old Shishido Town Hall Building, has one exhibit room with about 350 items related to the Tsukuba Naval Air Group. The items include historical photos and letters donated by prior trainees at Tsukuba and by family members of men who died during the war. The museum has a two panel exhibit on Shunsuke Tomiyasu, the kamikaze pilot of the 6th Tsukuba Squadron who crashed into the aircraft carrier Enterprise on May 14, 1945. However, one panel is near the ceiling due to limited exhibition space, which makes it impossible to read or to make out the photo details unless the curator brings out a ladder to take it down.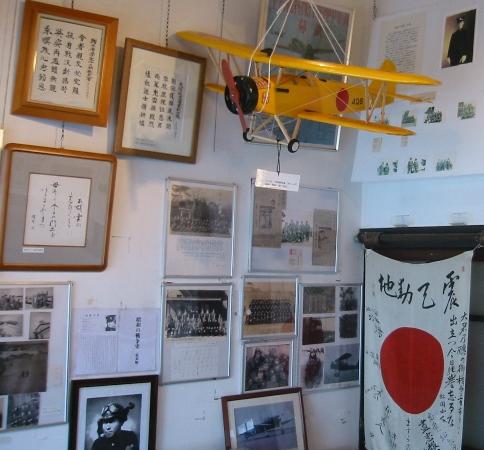 Exhibits all the way to the ceiling in Tsukuba Air Group Exhibit Room
at Kasama Museum of History and Folklore.
Biplane model hanging from ceiling is Type 93 Intermediate Trainer
(nicknamed Akatonbo or Red Dragonfly).
The exhibition room also has a photo of Shin'ichi Ishimaru, the former professional baseball pitcher who died as a Kamikaze Special Attack Corps pilot in the 5th Tsukuba Squadron on May 11, 1945. An exhibit case also shows some promotional material from the 1995 movie Ningen no tsubasa (Wings of a Man) about his life, but the museum does not provide any other background information about Ishimaru.
Related Web Pages
Note
Certain information on this web page, including the Tsukuba Naval Air Group's history, comes from exhibits at the Kasama Museum of History and Folklore.
Source Cited
Osuo, Kazuhiko. 2005. Tokubetsu kōgekitai no kiroku (kaigun hen) (Record of special attack corps (Navy)). Tokyo: Kojinsha.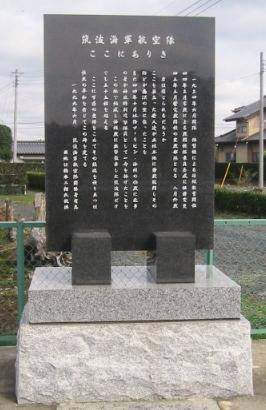 Tsukuba Naval Air Group Monument
at original location (1999-2017)