Ningen no Tsubasa (Wings of a Man)
Director: Akihisa Okamoto
Cast: Toshihide Tonesaku as Shin'ichi Ishimaru
Mayumi Yamaguchi as Keiko Sakurai
Kazuyoshi Sakai as Kōichi Honda
Committee to Make Wings of a Man, 1995, 135 min., Video
Shin'ichi Ishimaru, ace pitcher for the Nagoya Team in Japan's professional baseball league from 1941 to 1943, died as a kamikaze pilot at the age of 22 in May 1945. This film covers Shin'ichi's life from 1940 as a high school student in Saga Prefecture. Although the movie contains some scenes of military training and barracks life, most scenes portray civilian life in mainland Japan during the war. The filming in black-and-white and the insertion of film clips of actual events such as the Tōkyō bombing give the movie an atmosphere of realism. The movie Wings of a Man depicts Shin'ichi Ishimaru as a hero with ideal character and many accomplishments who gave his life to defend his country.
This movie is based on the 1981 book, Lost Spring - Pitcher Shin'ichi Ishimaru, Vanished in Kamikaze Attack (Kieta Haru - Tokkō ni Chitta Tōshu Ishimaru Shin'ichi), by Hidehiko Ushijima. Although this independent film was never released commercially, it was shown throughout Japan several hundred times. Japan's Ministry of Education, National Congress of Parents & Teachers, Japan Film Society, and other groups recommended the film. A wide variety of organizations, many in Shin'ichi's home prefecture of Saga, provided financial support for the production and distribution of the film. Wings of a Man is a movie "commemorating the 50th year of the end of the Pacific War and the realization of true peace and prosperity."
As a pitching star both in high school at Saga City and as a professional at Nagoya City, Shin'ichi demonstrates great intensity and integrity. In the spring of 1941 he leaves Saga City to join the Nagoya professional baseball team, now known as the Chūnichi Dragons. He plays infield the first year, but he yearns for the day when he can pitch. In the spring of 1942, he gets his chance and pitches a shutout against the opposing team. During the game the Nagoya catcher moves his glove to make the umpire think that a ball is a strike, and Shin'ichi scolds him, "Hold your glove still after a catch. A ball is a ball. I hate cheating." On October 12, 1943, he pitches a no-hit, no-run game, and he finishes the season with a 1.15 ERA and a record of 20 wins and 12 losses. While playing with the Nagoya Team, he studies at the university in the evening, primarily because of the draft exemption for university students. However, this exemption ends in late 1943, and he enters the Navy.
On February 1, 1944, Shin'ichi becomes a student pilot. He later moves to several air bases for intensive flight training, and during this time he meets Kōichi Honda, who played college baseball before entering the Navy. They develop a close friendship because of their mutual love for baseball. Shin'ichi pursues his flight training with the same intensity as baseball, and he gets promoted to Ensign in December 1944. Both men join the kamikaze corps in February 1945 when encouraged by officers of their air brigade. During Kamikaze Corps training, Shin'ichi visits the office of the Nagoya Team, and they give him a new baseball that he can keep with him to the end.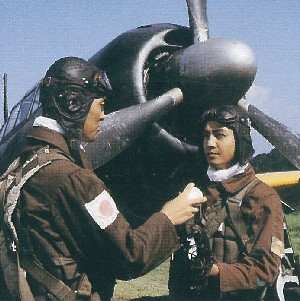 Shin'ichi Ishimaru (left)
and Kōichi Honda (right)
Shin'ichi's relationship with Keiko Sakurai provides many touching and humorous moments in the film. When Keiko moves to Saga City from Tōkyō, they quickly develop an unspoken affection for each other, but Shin'ichi as a shy high school boy can say only a few words to her. Although Keiko sees off Shin'ichi at the train station when he leaves Saga City in the spring of 1941 to go play baseball for the Nagoya Team, they do not correspond and do not see each other again until the first half of 1944. Keiko had returned to Tōkyō with her family, and she finds out that Shin'ichi is at a nearby air base after writing to his mother to find out where he was stationed. When she goes to visit him at the air base, they renew their relationship. She gives him some ohagi (rice cakes) and shows him the scrapbook she made of newspaper articles about him, and he gives her a broach that she promises to never take off. After the bombing of Tōkyō on March 10, 1945, he visits her home where they decide to get married. However, soon after Shin'ichi returns to base, Keiko's home is bombed and she dies in flames holding Shin'ichi's photo.
From Pitcher to Military Man
Shin'ichi Ishimaru
On April 26, 1945, Shin'ichi's unit leaves an air base near Tōkyō to proceed to Kanoya Air Base in southern Japan to wait for orders to make a kamikaze attack against American ships near Okinawa. During the two weeks before the order comes, the men help out local farmers in the fields and wade together in a nearby stream. The attack is scheduled for the morning of May 11, so the night before they write last letters to their families. Early in the morning of May 11, Shin'ichi and his friend Honda go outside the barracks to play catch with the new ball given by the Nagoya Team. Honda challenges Shin'ichi to throw ten strikes, which he does in ten pitches as the men gather around them. When Shin'ichi gets in his plane to depart, he wraps the baseball in his hachimaki (headband) and throws it out to the people gathered to cheer their departure. The hachimaki has the following message written on it, "My life is over at 22. Nothing but loyalty and filial piety." As Shin'ichi's plane flies toward Okinawa, an American fighter shoots it down.
The film does not focus on details of Japan's kamikaze operations, but it accurately portrays several aspects of the Kamikaze Corps. For example, pilots in the Navy and Army generally were subjected to intense pressure from officers and peers to "volunteer" to join the kamikaze corps. An officer of Shin'ichi's naval air brigade gives a speech saying that joining the kamikaze corps is voluntary, but later in the barracks Shin'ichi's squad leader pressures his squad members to join. "If even one of you refuses, it will bring disgrace on us all. You were told it's voluntary, but I expect you all to sign up." The movie also portrays how many Kamikaze Corps members had to wait several days and weeks without knowing when they would be called for their final flight. Shin'ichi's unit moved to an air base in southern Japan to make kamikaze attacks on American ships around Okinawa, but his unit had to wait two weeks before making the attacks because of rain and because search planes could not locate the ships. The movie shows all nine planes in Shin'ichi's squadron being destroyed by American planes before they catch sight of any American ships. Although Japan's kamikaze attacks on American ships around Okinawa caused great damage, the superior American fighter planes shot down many Japanese planes before they reached their intended targets.
The characters in the film have different views toward death in battle. After the fire bombing of Tōkyō in March 1945, Keiko's father does not think Japan can win the war and that it will end soon, so he tells Shin'ichi to not hurry to death. Shin'ichi's mother and Keiko want him to treasure his life and not die. Shin'ichi's older brother, also in the military, suggests to him that he not become a pilot since most of them end up dying. In contrast to these views, Shin'ichi faces death with a calm, quiet resolve, which seems to be the attitude of others in the Kamikaze Corps. He does not dwell on the thought of death, even though death faces him each day as he waits to sortie on his final flight. Before each of his final three pitches, he yells out short expressions of his anguish. "Who took baseball from me?" "Give Keiko back!" "My last pitch. This is my life!"
The two central characters, Shin'ichi and Keiko, each seem to possess an ideal personality with no faults. Indeed, except for a few obviously malevolent military officers, every character in this film seems to have a charming personality. Although this clear depiction of good and evil may give children and adults role models to follow, the movie's romantic portrayal of Shin'ichi and his wife, family, and friends may not allow insight to difficulties faced by some Kamikaze Corps pilots and their families.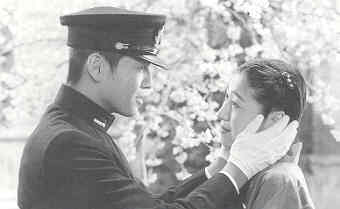 Shin'ichi and Keiko
Before Shin'ichi's departure from Kanoya Air Base, the nine pilots in his unit line up for a last drink in the name of the Emperor. The unit leader concludes a speech with the words, "You're already living gods. You're free from all desires." These are the same words Vice Admiral Ōnishi spoke when the first kamikaze unit was formed in the Philippines in October 1944. As the others drink, Shin'ichi dashes his cup to the ground, probably thinking of the loss of Keiko and baseball. Although this could never have happened in the Japanese military without some type of punishment, Shin'ichi's action shows he retained his intensity and integrity to the end.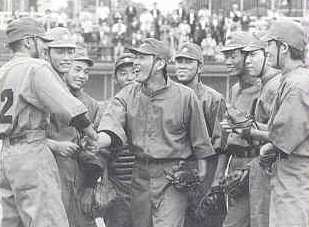 Nagoya teammates congratulate Ishimaru
after pitching no-hit, no-run game
Related Web Pages