Saigo no picchingu: Tokkō no kieta maboroshi no meitōshu (Final pitch: Phantom star pitcher who disappeared in special attack)
by Masao Kogure
Illustrated by Chūji Aoshima
Popurasha, 1987, 198 pages
Shin'ichi Ishimaru, star pitcher with the Nagoya Team (now Chūnichi Dragons) in the 1942 and 1943 seasons, entered the Japanese Navy in December 1943 and died in battle as a member of the Kamikaze Special Attack Corps 5th Tsukuba Squadron on May 11, 1945. This book by children's author Masao Kogure, author of numerous children's books and 1987 winner of the Japan Children's Literature Association Prize, tells the story of Shin'ichi Ishimaru. However, despite a subtitle of Phantom star pitcher who disappeared in special attack, which would seem to indicate that the book is focused on Shin'ichi Ishimaru's life, the author provides extreme details in extended diversions about the life of his older brother Tōkichi Ishimaru, the historical background of the Pacific War, and the history of Japanese baseball at all levels (professional, university, and amateur) until competition was discontinued due to wartime conditions. Tōkichi answered interview questions from Kogure and gave him much information for the book, which probably is why so much of it has little to do directly with Shin'ichi Ishimaru. Masao Kogure also used Hidehiko Ushijima's 1981 book Kieta haru - Tokkō ni chitta tōshu Ishimaru Shin'ichi (Lost spring - pitcher Shin'ichi Ishimaru who fell in special attack) as a source for this children's book, but there is no mention of his romantic relationship with Keiko Sakurai, which plays a prominent role in Ushijima's book and in the 1995 movie Ningen no Tsubasa (Wings of a Man) about Shin'ichi Ishimaru's life.
The first half of the book focuses on Tōkichi Ishimaru, one of eight children (three boys and five girls) raised by his parents Kinzabu, a barber, and Sode in Saga City. In 1937, even though Tōkichi's father strongly opposed his becoming a professional baseball player, he joined the Nagoya Team, the third professional baseball team organized in Japan. Tōkichi distinguished himself in his first season as the best batter on the team with a .276 batting average, but the Nagoya Team could do no better than last place in the league. In 1938, he was drafted into the Army, trained as a communications specialist, and sent to central China where Japan was at war.
Shin'ichi, eight years younger than Tōkichi, excelled at baseball from an early age and enjoyed practice no matter how difficult or long. He asked his brother Tōkichi in the Army for an introduction to the Nagoya Team's Representative and Manager so that he could get a position there, and he became the starting second baseman for the 1941 season. However, when Tōkichi returned from the Army, he returned to his regular position of second basemen, and Shin'ichi became a pitcher, his position in high school, starting with the 1942 season. This was the first time in Japanese professional baseball when two brothers played on the same team. They sometimes quarreled during games, and at times the manager had to go onto the field to mediate the dispute. Tōkichi often made negative comments to Shin'ichi to make him even more determined when he was pitching. When Shin'ichi was the starting pitcher against the Hanshin Team on April 18, 1942, an American bomber (from the Doolittle Raid) was sighted in the skies, so the game was cancelled. During the 1942 season, he won 17 games, the most for the Nagoya Team, but his team still finished far behind the leader in seventh place. On October 12, 1943, he pitched a no-hit, no-run game, and he finished the 1943 season with a 1.15 ERA and a record of 20 wins and 12 losses. The Nagoya Team jumped to second place in the league's final standings.
In December 1943, Shin'ichi joined the Navy as a member of the 14th Class of Flight Reserve Students (Hikō Yobi Gakusei). He had been taking night classes at Nihon University in Tōkyō, but the draft exemption for university students ended in the fall of 1943. After basic and flight training at Sasebo, Tsuchiura, and Izumi, he was assigned in September 1944 to the Tsukuba Naval Air Group in Ibaraki Prefecture. Shin'ichi gave his best with great determination as a Zero fighter pilot in the same way as he did as a pitcher for the Nagoya Team. In February 1945, 84 men of the Tsukuba Air Group were selected from volunteers for a special (suicide) attack unit. One day in the first part of March, Shin'ichi visited the Tōkyō Office of the Nagoya Team to talk with the Representative, who gave him a new baseball to take with him. On April 26, he departed Tsukuba Air Group for southern Kyūshū from where he would make a special attack toward Okinawa. On April 30, Ishimaru's 5th Tsukuba Squadron received an order to make a sortie from Kanoya Air Base on the morning of the next day, so he wrote last letters to his parents, his oldest brother Tachio, and the Nagoya Team Representative. However, rain delayed the sortie. On May 10 after orders had been given that the 5th Tsukuba Squadron would make a sortie the next day, Shin'ichi talked with Kōichi Honda, who had played college baseball at Hōsei University in Tōkyō until the cancellation in April 1943 of the Tōkyō Six University League due to wartime conditions. Honda and Shin'ichi had become friends with a common passion for baseball when they were stationed together at Izumi and Tsukuba. Honda offered to catch ten pitches from Shin'ichi outside the schoolhouse that had been serving as their makeshift barracks at Kanoya. Shin'ichi threw ten straight strikes as the last pitches of his life as the other men watched. Early the next morning on May 11, 1945, Shin'ichi Ishimaru and the other eight 5th Tsukuba Squadron members flew toward Okinawa in their Zero fighters and lost their lives in special attacks.
Although the book indicates that it is for children in the middle grades of elementary school and older, it seems that it is directed towards older students with its challenging language even though the pronunciation is shown for the kanji (Chinese characters). The extended parts on details of the historical background may be meant for children's education, but it slows down significantly the book's plot. Some readers may be interested in details of the early history of Japanese baseball, including professional, university, and amateur teams, but the amount of information is much more than is needed to understand the main plot about Shin'ichi Ishimaru. One of the more interesting background sections is when the Japanese government required in 1943 that the league change all of the baseball words and team names derived from English words to Japanese equivalents, since there was the belief that Japanese people should not be using the enemy's language. The book includes about 20 illustrations (see example at bottom of page). Even after reading this children's book, readers will not know much about Shin'ichi's feelings and opinions as he faced death as a Kamikaze Corps member other than what he wrote in his final letters.
Related Web Pages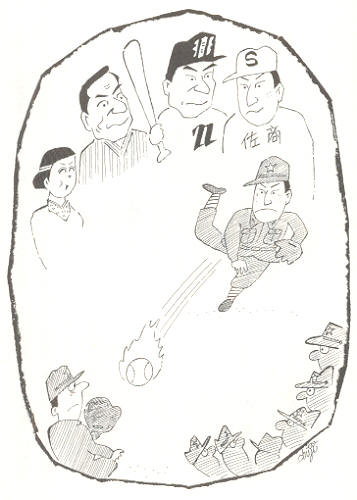 Shin'ichi Ishimaru pitches ten strikes
to Kōichi Honda on day before he took off
from Kanoya Air Base and died in battle