Last Letters of Ensign Shin'ichi Ishimaru to His Parents and Older Brother
At 0655 on May 11, 1945, Ensign Shin'ichi Ishimaru took off from Kanoya Air Base as pilot in a Zero fighter carrying a 500-kg bomb and died in a special (suicide) attack off Okinawa at the age of 22. He was a member of the Kamikaze Special Attack Corps 5th Tsukuba Squadron. He was from Saga Prefecture, attended Nihon University in evening classes, and was a member of the 14th Class of the Navy's Flight Reserve Students (Hikō Yobi Gakusei).
His life is depicted in the 1995 film Ningen no Tsubasa (Wings of a Man). Shin'ichi Ishimaru was an ace pitcher for the Nagoya Team (now known as Chūnichi Dragons) in Japan's professional baseball league from 1941 to 1943. On October 12, 1943, he pitched a no-hit, no-run game, and he finished the season with a 1.15 ERA and a record of 20 wins and 12 losses.
Shin'ichi Ishimaru first met Keiko Sakurai when she moved to Saga City from Tōkyō when he was in high school. Keiko returned to Tōkyō with her family, and she found out that Shin'ichi was at a nearby air base after writing to his mother to find out where he was stationed. She went to visit him at the air base, and they renewed their relationship. After the bombing of Tōkyō on March 10, 1945, he visited her home where they continued their loving relationship. However, on April 13, Keiko died when her neighborhood in Tōkyō was firebombed by American B-29s.
On April 30, 1945, Ishimaru's squadron received an order to make a sortie from Kanoya on the morning of the next day [1]. The following two letters, one to his parents and another to his brother, were written at this time.
Dear Parents,

Cherry blossoms have fallen, and young leaves that are fresh and green are beginning to grow thick as they signal good luck for us.

I trust that you have been getting along fine. At this time of crisis for the country, this is an opportunity for me to be able to do some service through my death. Finally tomorrow will be the opportunity for me to make a taiatari (body-crashing) attack on an enemy ship. Now there is nothing to say.

Today when the war situation at last has become tense, I know as an officer in the Imperial Navy that there is no greater honor than this.

Regarding the matter of the Ishimaru Family, I follow the right path by leaving it entirely to Older Brother Tachio who is the core person of us siblings. I pray that you will be a harmonious family where each person finds happiness in the midst of hardship so the Ishimaru Family will be built up.

Shin'ichi

---

Dear Tachio,

Preliminaries omitted. I trust that you have been getting along fine. This evening there was suddenly an order for a sortie to Okinawa. I think that I cannot calmly express in writing all of my thoughts, but I would like that you let me list them out as they come to mind.

First are my remaining articles. As for cash, please give all of it to Father. Out of that I ask that a small amount be used for marriage expenses of Older Brother Taneo. Last month I sent 500 yen, and I think that you have received it.

Please give the clock inside the trunk to Older Sister Kuniko, and you can have the wallet.

Finally I also will make a sortie. When I look back on my life through today, it truly was a happy life. Even though a young cherry blossom of 24 years old [2] will fall, there are no regrets. Since elementary school I have been taught the word chūkō (loyalty and filial piety) any number of times by any number of my teachers and seniors. I realized that now undoubtedly this idea has begun to grow stronger. While I did not know this concept since I could not understand what I had been taught, I by myself knew to follow the path of loyalty and filial piety. When I tried to do it, my life of 24 years seems to have been the mastering of the word chūkō (loyalty and filial piety). My only regret is to die before our parents. This also is due to the war situation. You, who are an educator, please tell them of this point so they realize it.

I have been forced to think much concerning the matter of death, but ultimately it is the life that I had and to which I was born. I think that the grief of parents is greater with this than when there is death by an illness when the person wastes away. I think that I must ride on the waves of the times until the end.

Regarding my other remaining articles, since I leave them completely to you, I ask you to handle them. When Taneo marries, I suppose that he soon will have a hard time with clothing, so I request you to take care of this expected matter.

Give my regards to Aoshima and all of the relatives.

Please make our parents happy who in the near future will be old. I pray for prosperity of the Ishimaru Family.

When it becomes dawn, I will write my final letter.

Take care of yourself.

Excuse me for going before you.

Shin'ichi
Rain delayed Ishimaru's planned sortie on May 1, and there were several days of rain after that delayed the sortie until May 11 [3]. On the day before his sortie, Ishimaru wrote the following last letter.
Evening of May 10

Dear Father,

My sortie was postponed until today.

Finally I will make a sortie tomorrow morning.

Having survived until today is indeed a wonder.

I certainly will sink instantly an enemy aircraft carrier.

Give my best regards to Older Brother Tōkichi when he returns home.

Please send photos to the Tsuruta Family in Karatsu.

Sumi Tsuruta
Urabōzu, Karatsu City

Now there is nothing to write.

Shin'ichi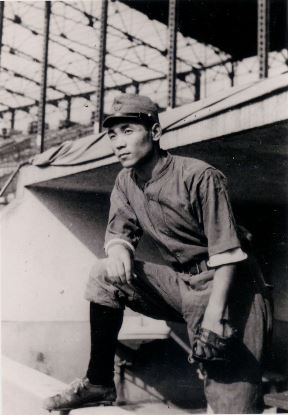 Shin'ichi Ishimaru, pitcher for Nagoya Team
(now known as Chūnichi Dragons) in Japan's
professional baseball league from 1941 to 1943
---
Letters translated by Bill Gordon
October 2018
The letters come from Ushijima (1994, 274-7, 288). The biographical information in the first three paragraphs comes from Eiga "Ningen no Tsubasa" o Tsukuru Kai (1996, 2-3, 8), Osuo (2005, 198), and Ushijima (1994, 31-4, 210-5, 225-35).
Notes
1. Ushijima 1994, 273.
2. The traditional Japanese method of counting age, as in much of East Asia, regards a child as age one at birth and adds an additional year on each New Year's day thereafter. This explains why the letter indicates his age as 24 whereas the current way of counting based on his birth date of July 24, 1922 (Eiga "Ningen no Tsubasa" o Tsukuru Kai, 8), makes his age 22 at time of death.
3. Ushijima 1994, 279.
Sources Cited
Eiga "Ningen no Tsubasa" o Tsukuru Kai (Committee to Make Wings of a Man), ed. 1996. Ningen no Tsubasa: Saigo no kyacchibōru (Wings of a Man: Playing Catch for Last Time). Eiga "Ningen no Tsubasa" o Tsukuru Kai (Committee to Make Wings of a Man).

Osuo, Kazuhiko. 2005. Tokubetsu kōgekitai no kiroku (kaigun hen) (Record of special attack corps (Navy)). Tōkyō: Kōjinsha.

Ushijima, Hidehiko. 1994. Kieta haru - Tokkō ni chitta tōshu Ishimaru Shin'ichi (Lost spring - pitcher Shin'ichi Ishimaru who fell in special attack). Originally published in 1981 by Jiji Tsūshinsha. Tōkyō: Kawade Bunko.