Usa Special Attack Monument
The Commander at Usa Naval Air Base, located on the northern coast of Ōita Prefecture on Japan's southernmost main island of Kyūshū, received orders in February 1945 that 110 men in the Naval Air Group there should commence training for special (suicide) attacks. Near the planned dates of their attacks, these young men in the Kamikaze Special Attack Corps moved south to bases in Kagoshima Prefecture, from where they would sortie on suicide attacks against Allied ships off Okinawa. The monument at right, erected in 1954, honors the 154 Usa Naval Air Group men who died in special attacks.
The Navy opened Usa Air Base in October 1939 for flight training of pilots and observers of carrier dive bombers and carrier attack bombers. The use of Usa as a training base continued through the end of 1944. In April and May 1945, the men from Usa Naval Air Group participated in the first five of ten mass kamikaze attacks, named Kikusui (Floating Chrysanthemum) operations. They made sorties from Kushira Air Base and Kokubu No. 2 Air Base on April 6, 12, 16, 28, and May 3 [1]. In total, 61 men in 49 Type 99 Carrier Dive Bombers (Allied code name of Val) and 93 men in 32 Type 97 Carrier Attack Bombers (Allied code name of Kate) perished in carrying out special attacks.
In 1954, surviving pilots from the Naval Reserve Training Program provided funds and a local man donated land to build a monument in honor of men in the Usa Air Base Kamikaze Special Attack Corps who died in the war. The monument site also includes a stone wall with names, ages, and home prefectures of those who died. The monument tablet has engraved on it the three-character word "chūkonhi," which means monument to the war dead. Each year a memorial service is held at the monument site on April 16.
During early 1945, Usa Air Base also provided support for other naval air units. Several kamikaze squadrons from air bases further north stayed there temporarily or refueled, and they then proceeded to kamikaze sortie bases in the southern part of Kyūshū Island. Also, ōka weapons (rocket-propelled glider bombs) and mother planes (Betty bombers) were kept at Usa Air Base at times during the first half of 1945.
On April 21, 1945, about 30 American B-29s bombed Usa, which caused about 320 deaths among soldiers and civilians. B-29s dropped bombs on Usa four other times before the end of the war.
Planes at Usa Air Base were stored in camouflaged concrete hangars to protect them from enemy air attacks. The Usa hangar shown below is among the best-preserved in Japan.
Note
1. Kushira Air Base and Kokubu No. 2 Air Base also have monuments built in honor of the kamikaze pilots who departed from those two naval air bases.
A historical summary of Usa Air Base provided by Usa City indicates that some Usa Air Base kamikaze pilots also made sorties from Kokubu No. 1 Air Base, but this is inconsistent with other sources such as Tokkōtai Senbotsusha (1990, 327) and a sign in Usa City that lists the sortie bases of Usa Air Base kamikaze pilots.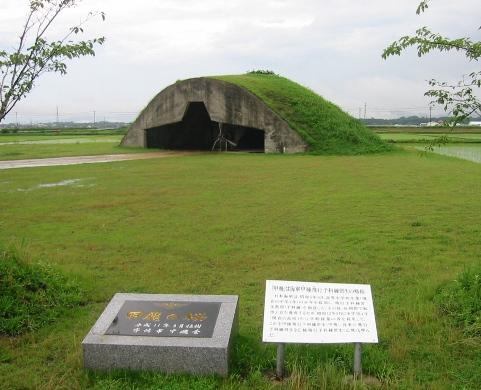 Wartime aircraft hangar in Usa
Sources
The following sources were used for this web page.
Usa City provided several documents about the history of Usa Naval Air Base. These documents included a 30-page detailed chronology of Usa Air Base with an extensive bibliography.

Tokkōtai Senbotsusha Irei Heiwa Kinen Kyōkai (Tokkōtai Commemoration Peace Memorial Association). 1990. Tokubetsu Kōgekitai (Special Attack Corps). Tōkyō: Tokkōtai Senbotsusha Irei Heiwa Kinen Kyōkai, p. 327.

Yuko Shirako provided the two photos on this web page.