Kushira Naval Air Base War Dead Memorial Tower
Kanoya City, Kagoshima Prefecture
On March 1, 1945, Kushira became a sortie base for Kamikaze Corps attacks. During the next six months, 363 young men died in kamikaze attacks after taking off from Kushira [1], and another 202 died in conventional attacks. Kushira was the third largest special (suicide) attack sortie base, after Kanoya (829 deaths in kamikaze attacks) and Chiran (439 deaths) [2]. Kushira Air Base opened in April 1944, and it was first used for intensive training of crewmen, maintenance personnel, and navigators.
In October 1969, Kushira Town [3] and the Association to Build the Kushira Naval Air Base War Dead Memorial Tower erected the memorial tower. The area around the tower is called Kushira Peace Park, and it was built with the hope to achieve eternal peace and to tell future generations about the tragedy of war. The park is at the same site as former Kushira Air Base.
The front base of the tower has the following inscription on a stone plaque:
Now we make sorties with no regrets
Parents, brothers, sisters, be happy
With refreshed hearts like the skies
It will also be this way shortly, goodbye

May there be rest for the spirits of the over 300 men who took off from here at Kushira Air Base in the last part of the Pacific War and did not return as they became human bombs. They surely became the foundation for peace.
The left and back sides of the tower base have stone tablets inscribed with names and squadrons of men from Kushira who died in World War II, including Kamikaze Special Attack Corps members who made sorties from Kushira Air Base and did not return. On October 15 each year, survivors and bereaved family members gather together with Kanoya City residents at a memorial service in the Peace Park. When you face the memorial tower, stand on the memorial bridge in the park, and clap your hands, it is said that you can hear the white dove on top of the tower cry, "coo-coo." The park also has several other smaller monuments dedicated to war dead of specific naval units based at Kushira and squadrons that made sorties from Kushira.
In 1945, carrier attack bombers of hikōtai (air groups) ordered to participate in operations proceeded from their home bases to Kushira Air Base. Under the command of the 5th Air Fleet, they carried out torpedo and bombing attacks against enemy ships off Okinawa. Type 97 carrier attack bombers from Usa Air Base, Himeji Air Base, Nagoya Air Base, and Hyakurihara Air Base, when ordered to form Kamikaze Special Attack Squadrons, also departed one after another from Kushira Air Base. Tenzan bomber Kikusui Units, formed from the 131st Air Group and ordered to make special attack sorties, also used Kushira as a sortie base for attacks of no return against the Allied task force around Okinawa.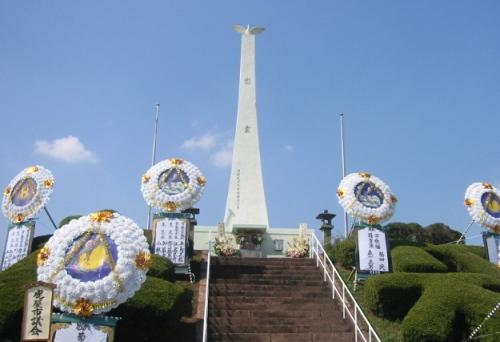 Wreaths in front of memorial tower
for 2007 memorial service
Cherry blossoms became the symbol associated with kamikaze pilots from the time of the formation of the first Kamikaze Corps unit in the Philippines. There are over 2,000 cherry trees in Kushira Peace Park, and it has become a famous spot on Ōsumi Peninsula for cherry blossoms. Each year in early April a cherry blossom festival is held at the park. Cherry trees now line the road that used to be the Kushira Air Base runway.

Kushira survivors, including many former Kamikaze
Corps pilots, sing "Dōki no sakura" (Cherry blossoms
of same class) at 2007 memorial ceremony
The following last letters and diary entries were written by Kamikaze Special Attack Corps members who took off from Kushira Air Base and died in special attacks: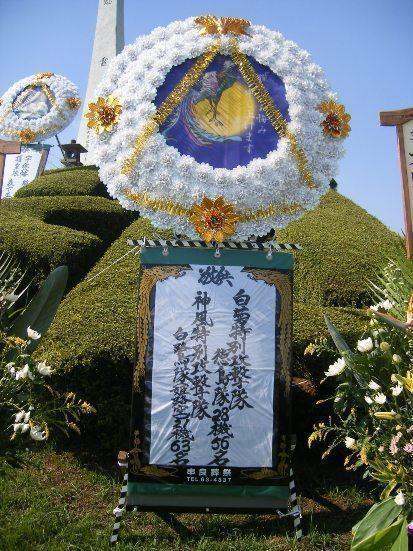 Wreath in memory of 56 men (28 aircraft) of
Shiragiku (White Chrysanthemum) Special Attack
Squadrons from Tokushima Air Group and 63 men
(21 aircraft) of Goō (White Egret) Special
Attack Squadrons from Himeji Air Group
Notes
Much of the information on this page comes from a sign in Kushira Peace Park and from Tokkōtai Senbotsusha (1990, 320). The information in the next to the last paragraph is a translation of information on Senri Nagasue's web site.
1. Tokkōtai Senbotsusha (1990, 330) indicates that 340 men died in kamikaze attacks from Kushira Air Base. Information displayed at the Kanoya Air Base Museum indicates 334 died in kamikaze attacks from Kushira.
2. The numbers of deaths from kamikaze attacks come from information displayed at the Kanoya Air Base Museum and at the Chiran Peace Museum for Kamikaze Pilots.
3. Kushira Town became part of Kanoya City on January 1, 2006.
Sources Cited
Nagasue, Senri. 2004. Aozora no hateni (To the blue sky's end). Web site. <http://www.warbirds.jp/senri/index.html> (September 30, 2004).

Tokkōtai Senbotsusha Irei Heiwa Kinen Kyōkai (Tokkōtai Commemoration Peace Memorial Association). 1990. Tokubetsu Kōgekitai (Special Attack Corps). Tōkyō: Tokkōtai Senbotsusha Irei Heiwa Kinen Kyōkai.