Usa City Peace Museum
Usa City, Ōita Prefecture
Usa City, located on the northern shore of Ōita Prefecture in the northern part of Kyūshū, opened a Peace Museum in 2013 to tell the World War II history of Usa Naval Air Group. The museum's highlight is a life-size model of the Zero fighter that was used for the popular 2013 film Eien no zero (The Eternal Zero). Visitors can climb stairs in order to look into the cockpit. The other most prominent exhibit is a 1/10-size model of an ōka, which was a piloted rocket-powered glider bomb released from a Betty bomber. In early 1945, these Betty bombers that would carry ōka weapons to be used in special (suicide) attacks stopped at Usa Air Base before they finally proceeded to Kanoya Air Base in Kagoshima Prefecture in southern Kyūshū.
In October 1939, Usa Naval Air Group was formed in Yanagigaura Village (now part of Usa City) as a training air group for pilots and other crewmen for carrier dive bombers and carrier attack bombers. On October 7, 1941, Type 97 Carrier Attack Bombers (Allied code name of Kate) for the aircraft carriers Shōkaku and Zuikaku began training at Usa Air Base for the attack on Peal Harbor on December 7, 1941. On February 11, 1945, 110 men started training for special attacks. On March 1, 1945, Usa Naval Air Group switched from a training to an operational air group with about 2,500 members. From April 6 to May 4, 1945, 154 men from Usa Naval Air Group died in special attacks as members of the Kamikaze Special Attack Corps. In total, 93 men in 32 three-man Type 97 Carrier Attack Bombers and 61 men in 49 Type 99 Carrier Dive Bombers (Allied code name of Val) died in battle while carrying out special attacks. The men moved from Usa to air bases in Kagoshima Prefecture in southern Kyūshū in order to make their final sorties south toward Okinawa. The Kate attack bombers took off from Kushira Air Base, and the Val dive bombers took off from Kokubu No. 2 Air Base.
The museum displays a variety of artifacts related to Usa Naval Air Group such as flying goggles, a radio receiver, a mock bomb used for dive bombing practice, and a gun camera used by an American aircraft to confirm damage from air attacks. On March 18, 1945, 18 persons died in the first air attacks on Usa Air Base by 48 American carrier-based planes. The museum has clips from American gun cameras that show the attack on Usa on this date. On April 21, 1945, 320 persons died when 30 B-29 bombers made their first attacks on Usa. The air base continued to suffer attacks from American B-29 bombers, carrier-based aircraft, and B-24 bombers on several other days until the war's end.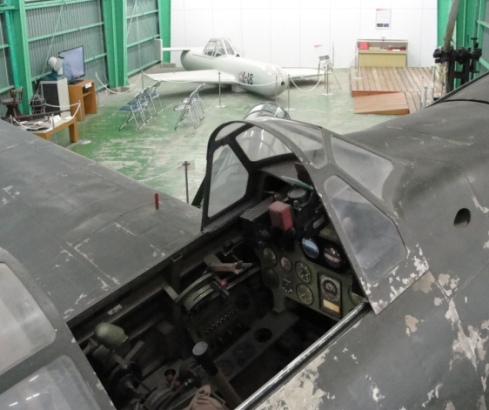 View of Zero fighter's cockpit with ōka
rocket-powered glider bomb in background
There are several information boards with photographs and narratives about the history of various aspects of Usa Naval Air Group such as the Kamikaze Special Attack Corps Hachiman Goō Squadrons from Usa, air attacks and bombings by American aircraft, and the 721st Naval Air Group whose Betty bombers designated to carry ōka weapons into battle used Usa Air Base as a transfer point. There is a small amount of information about last letters and diaries written by Kamikaze Special Attack Corps members. Four pages from the diary written by Ensign Masanori Ōishi, a former Tōkyō Imperial University student and an Usa Naval Air Group member who died in a special attack on April 28, 1945, have been reproduced in a exhibit along with his photograph and the cover of his 2007 biography Pen o tsurugi ni kaete: Tokkō gakutohei kaigun shōi Ōishi Masanori (Replacing the pen with the sword: Special attack student soldier Ensign Masanori Ōishi) written by his brother Masataka Ōishi. The exhibit also has three poems that he wrote before his death including the following one:
Waiting anxiously, worthwhile for Emperor
Today's joy to fly as shield for Him
Admission to the Usa City Peace Museum is free, and the museum is open every day except Tuesday. The exhibits do not have English translations, but there is a detailed map in English of Usa tourist sites, including several related to Usa Naval Air Group such as three wartime building remains, several concrete hangars used to protect aircraft from enemy air attacks, a tunnel used as an air-raid shelter, and a crater from an American bombing that now has water in it. The Usa City Peace Museum provides a free eight-page booklet with many photos about the history of the Usa Naval Air Group and the museum's exhibits. The museum also offers a map of about 20 wartime sites along with photos and explanations for 12 of these. It is clear that Usa City has devoted many resources to making a visit to the city an informative and pleasurable one.
Date of visit: October 14, 2018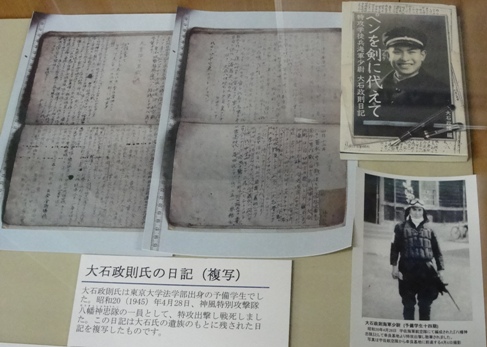 Exhibit about diary of Ensign Masanori Ōishi
Related Web Pages