Wataru Miyazaki
Phantom Daytime Attack (Part 1): Squadron Members With No Wish to Volunteer (Maboroshi no hiruma kōgeki (jō): Shigan no ishi naku taiin ni)
Researched and written by Shūji Fukano and Fusako Kadota
Pages 183-5 of Tokkō kono chi yori: Kagoshima shutsugeki no kiroku (Special attacks from this land: Record of Kagoshima sorties)
Minaminippon Shinbunsha, 2016, 438 pages
As for Masato Tajiri (92 years old, Jōrokuchō, Tokushima City, and whose hometown is what is now Yuda, Higashiichikichō, Hioki City in Kagoshima Prefecture), who was transferred from the 256th Air Group in Shanghai, China, to the Tokushima Naval Air Group at the end of March 1945, "without volunteering" he was assigned to the Kamikaze Special Attack Corps Tokushima Shiragiku Unit, which used Shiragiku onboard operational training aircraft in the Tokushima Air Group.
Wataru Miyazaki (90 years old, Nagata Ward, Kōbe City), who came shortly before Tajiri from the 931st Air Group in Saeki, Ōita Prefecture, has "no memory at all" of being asked whether he wanted to volunteer. However, he soon felt "there was something going on" when he arrived at the new place of assignment. "Pilots were being gathered together from units with all types of aircraft, not only carrier-based attack aircraft like I piloted before but also fighters, bombers, and seaplanes. I thought that these men might be personnel for a special (suicide) attack unit."
As he had guessed, in early April the Tokushima Air Group became a special attack unit. As for the assumption to execute this strategy that "special attacks would be carried out by volunteers," in this period that idea had been disappearing gradually.
Tajiri, Miyazaki, and other pilots new to Tokushima were put into the newly-formed 31st Buntai (Squad) rather than the existing 1st Buntai, 11th Buntai, or 21st Buntai. They were asked to familiarize themselves quickly with how to pilot the Shiragiku.
Tajiri says, "The crew for a Shiragiku was made up of two men, a pilot and an observer responsible for navigation, but in the beginning multiple pilots manned the aircraft. We rotated taking the pilot's stick and started to grasp the aircraft's peculiarities."
Even Miyazaki, who at the beginning had discontent saying "why the Shiragiku?", soon became captivated by its simple maneuverability. He thinks back to his change in attitude, "The strange thing is that by piloting it every day I became deeply attached to it, thinking that I will go with this fellow."
Since the Shiragiku had slow speed and poor maneuverability, it was standard to have solo nighttime flights for about 600 kilometers from southern Kyūshū to the sea off Okinawa. Naturally, coordination between the pilot and observer pair was important, but the 31st Buntai, unlike other buntai, did not have any fixed observers.
The pairs were decided just before May 23, when they proceeded to Kushira Air Base from where they would make sorties. Therefore, both Tajiri and Miyazaki, far from being well-coordinated with their observers, have hardly any memory of the observer in their pair.
Considering capabilities of the Shiragiku, the daytime attack squadron to which the two men belonged can be said to be unprecedented.
Leaving Kushira Base at 5 a.m. would make arrival at Okinawa in the sunlight. Tajiri says, "It is a statement that is really wild, but when I look back, it would have been good if the hastily-assembled 31st Buntai had been told from the beginning that the men could be used even in daytime attacks."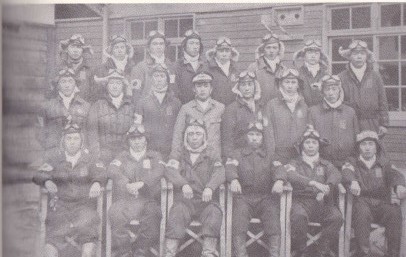 Tokushima Naval Air Group 31st Buntai
(Squad) made up of pilots who were
gathered from all over the country
(provided by Masato Tajiri)
Phantom Daytime Attack (Part 2): Sudden Cancellation, Not Even Any Record
---
Translated by Bill Gordon
September 2022
HOME > Stories > Phantom Daytime Attack (Part 1): Squadron Members With No Wish to Volunteer