Wataru Miyazaki
Phantom Daytime Attack (Part 2): Sudden Cancellation, Not Even Any Record (Maboroshi no hiruma kōgeki (ge): Totsuzen no chūshi, kiroku mo nashi)
Researched and written by Shūji Fukano and Fusako Kadota
Pages 186-8 of Tokkō kono chi yori: Kagoshima shutsugeki no kiroku (Special attacks from this land: Record of Kagoshima sorties)
Minaminippon Shinbunsha, 2016, 438 pages
Phantom Daytime Attack (Part 1): Squadron Members With No Wish to Volunteer
On May 23, 1945, 60 Shiragiku (meaning "white chrysanthemum") aircraft from the Tokushima Shiragiku Unit departed from Tokushima Naval Air Base in Matsushige Village (now Matsushige Town), Tokushima Prefecture, and headed toward Kushira Air Base from where they would make sorties.
Leaving for a special (suicide) attack was a strict secret, and they could not tell even their families. Unit member Wataru Miyazaki (90 years old, Nagata Ward, Kōbe City) stopped for fuel at Tsuiki Base and asked a maintenance technician to give to his older brother, who was working at the same base, his rising-sun hachimaki (headband), which signified a special attack.
Masato Tajiri (92 years old, Jōrokuchō, Tokushima City), flying at the head of the formation, changed slightly his flight path to Kushira to fly over his family's home in Yuda, Higashiichikichō (now Hioki City), in Kagoshima Prefecture and to say farewell to his hometown.
It was decided that the 1st Squadron of the Tokushima Shiragiku Unit would make sorties late at night on the 24th and that the 2nd Squadron that included Tajiri and Miyazaki would make sorties in the early morning of the 25th with daytime attacks. Tajiri remembers the sortie date of the 2nd Squadron as the 26th, but the two men are in agreement that the sortie time was 5 a.m.
If they flew at a speed of 150 kg/hr (93 miles/hr), they would reach Okinawa at 10 a.m. The expectation that a slow-speed Shiragiku would break through the American's powerful interception network in broad daylight was infinitely low.
Regardless of that, since we were to do it, we certainly were concentrating on making a taiatari (body-crashing) attack," says Tajiri. "In the evening when alone I was tormented with an uneasy feeling," says Miyazaki. He knew that a flight leader who he idolized when he was in Himeji Air Group had made a special attack sortie from Kushira Air Base on April 6, and he accepted his fate, "I also would carry out my mission as that flight leader did."
However, as Shiragiku propellers were rotating all together on the runway when the sky was beginning to get light, permission to take off did not arrive. At that time a maintenance technician came running up to us and shouted, "Sorties cancelled, cancelled."
As for the cancellation reason, "the opportunity to strike had been missed." Miyazaki recalls his state of mind at that time, "The situation was not well understood, but for the time being 'today I will be able to live another day,' I thought."
During that same day the daytime attack group was ordered to return to Tokushima. Afterward, Tajiri and Miyazaki continued nighttime flight training at Tokushima, and they ended the war there without getting an opportunity for the next sortie.
Why was the daytime attack cancelled? There are various theories such as worsening weather or an assessment of the results of the Army's Giretsu Airborne Unit that had made an assault on American-held airfields on the main island of Okinawa with aircraft that carried commandos, but the truth is not clear.
The Tokushima Shiragiku Unit continued nighttime sorties from Kushira five times between May 24 and June 25, and a total of 56 men died in battle. On the other hand, not even one detailed action report remains concerning the daytime attack squadron. "They did not think much of our existence with only that." It is a painful memory for Tajiri and Miyazaki.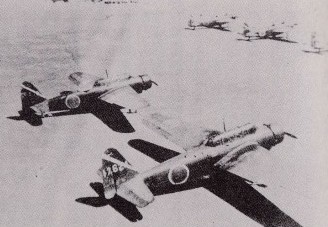 Tokushima Shiragiku Unit waiting for
special attack sorties in May 1945
(provided by Masato Tajiri)
Phantom Daytime Attack (Part 1): Squadron Members With No Wish to Volunteer
---
Translated by Bill Gordon
September 2022
HOME > Stories > Phantom Daytime Attack (Part 2): Sudden Cancellation, Not Even Any Record