Genkai 118th Shin'yō Special Attack Squadron Monument
Genkai Town, Saga Prefecture
An inlet named Hokawazu-ura was the site of a Japanese Navy base with shin'yō explosive motorboats to be used in suicide attacks against American ships in the event of an American invasion of the Japanese mainland. The former squadron commander and other former squadron members erected a monument in 1985 at the shin'yō base site in the fishing town of Genkai.
The monument has engraved the words "prayer toward peace." The monument base has a metal plaque with the following history:
Here in the Chikagawachi area of Genkai Town in May 1945 in preparation for the defense of Genkai, 189 members of a Shin'yō Special Attack Squadron with 25 boats under Squadron Commander Lieutenant Junior Grade Kageyama freely volunteered and vowed to serve as a foundation for that defense. They lodged in storage caves, stone-cut huts, and private houses. They, together with area residents, burned with love for their homeland. Transcending life and death as their very warm friendships went beyond feelings for their immediate families, they trained hard day and night at this memorable place and resolved to carry out body-crashing attacks of one boat against one ship.

In May 1984, 39 years later, former squadron members who visited here had an emotional reunion with area residents as we relished the joy of living in our peaceful homeland. As we prayed for the souls of all those who became a cornerstone of peace in various battlefields, we erected here this monument of "prayer toward peace" filled with gratitude toward area residents who gave us their love long ago.

November 24, 1985

Hokawazu Association, Former Kageyama Squadron
Chairman Shiro Kageyama and other interested individuals
After the above history, the plaque lists the names of the 189 members in the 118th Shin'yō Special Attack Squadron.
The back of the monument has engraved the 118th Shin'yō Special Attack Squadron's poem:
In the rolling waves
Of Genkai
Even if we get blown to bits
Disappearing as we give our lives
We will bloom as cherry blossoms
The monument stands in the parking lot of a construction firm along Hokawazu-ura with pipes stacked up right next to the monument. The metal plaque on the monument base has rusted quite a bit, but the inscription is still legible.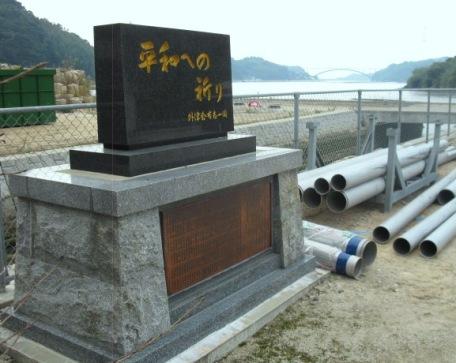 Genkai Shin'yō Monument
with Hokawazu Bridge in background
Story about Genkai Shin'yō Base written by Toshio Ōta, former member of 118th Shin'yō Special Attack Squadron:
Shin'yō Special Attack Squadron