Iwakuni Yokaren 2nd Toku Otsu Class Monument
Iwakuni City, Yamaguchi Prefecture
The Japanese Navy established a Yokaren (Preparatory Flight Training Program) base at Iwakuni in 1943. Many of these Yokaren graduates died in special (suicide) attacks near the end of WWII.
The Iwakuni Yokaren Monument was erected in 1991 at Iwakuni Gokoku Jinja, a shrine dedicated to those from the Iwakuni area who died to protect their country during wars. The shrine includes several other monuments. Its founding as a gokoku jinja dates back to 1891, and it now honors 3,031 persons who died during the country's wars. The original site was damaged by heavy rains in 1945, and the Iwakuni Gokoku Jinja moved in 1953 to the present site on a hill overlooking the Nishiki River.
The post to the left of the monument states it was erected by the Navy Hikō Yokaren (Preparatory Flight Training Program) 2nd Toku Otsu Class. The back of the monument has engraved the following history:
In June 1943 when the Pacific War became more and more fierce, 612 young men from all over Japan who burned with true desire to sacrifice themselves to confront their country's crisis were selected as they overcame the hurdle of getting into the Hikō Yokaren (Preparatory Flight Training) program. They started here as Yokaren trainees at Iwakuni Naval Air Group and endured rigorous training day after day. According to their aptitude, they were divided among different aircraft types and were assigned to operational units to acquire flying skills as flight trainees in different air groups. Later in the front ranks they thoroughly displayed traditional Imperial Navy spirit of attack and sacrifice. From the skies of the Northern Pacific Ocean to the skies of the South Seas, they excelled in carrying out their duties as they fought courageously.

As the war situation became more and more strained, they finally even bravely carried out hisshi hissatsu (certain-death, sure-kill) special attacks unheard of in the history of war and which would make the fierce gods cry out weeping. They set aside personal feelings with a desire for security of the nation's people, and the number who calmly lived for an eternal cause, turned the white clouds red, and became waterlogged corpses reached one half of the men.

Ah, we can guess what was in their thoughts as they silently gave their lives.

Today with war clouds having vanished a half century ago, desiring eternal world peace, we survivors together here remember their spirits in the other world and ask for their pacification. With many emotions, we erect this monument on this hill with a view of the place where they started.

Our comrades of the same class, rest in peace.

Erected June 1, 1991
Navy Hikō Yokaren 2nd Toku Otsu Class Trainees
Near the monument is a tree with a plaque in front that states that it is a memorial tree planted in June 1977 by the Navy Hikō Yokaren 2nd Toku Otsu Class.
The following last letters were written by graduates of the 2nd Toku Otsu class of the Navy's Yokaren: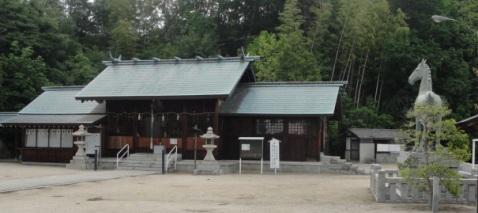 View of Iwakuni Gokoku Jinja main shrine
from Yokaren 2nd Toku Otsu Class Monument