Last Letter of Sergeant Hidetoshi Kuniyoshi to His Mother
On May 25, 1945, Sergeant Hidetoshi Kuniyoshi took off from Miyakonojō East Airfield as a member of the 58th Shinbu Special Attack Squadron and died in a special (suicide) attack west of Okinawa at the age of 21. He piloted an Army Hayate Type 4 Fighter (Allied code name of Frank). After his death in a special attack, he received a promotion to Second Lieutenant. He was from Kōchi Prefecture and was a member of the 9th Class of the Army Youth Pilot (Rikugun Shōhi) training program.
He wrote the following final letter to his mother with a death poem in tanka form (31-syllable poem with lines of 5-7-5-7-7 syllables) at the end:
Recently I was named to be a Special Attack Corps member.

It is the highest joy for a military man.

When we departed from the Akeno [1] flight unit, there was instruction from Captain Ōnuki that our state of mind when we attack enemy ships will be one of gladness for men who carry out aerial missions.

I will go smiling and fall.

Mother, please also be glad and do not cry.

I apologize again and again for my lack of filial piety during my lifetime.

Even though it has been a short time since the recent call, I feel like a heavy burden has fallen from my shoulders.

In addition to this, in order to hope for success I am determined to devote all my strength until the end and repeat many times my training.

Since as a Japanese young man who is taking action second to nobody, please do not worry about me.

Please give my best regards to Toshiko. Until now I have been able to do very little for her as an older brother, and I think that she truly must be lonely. I am an older brother who was as concerned as anyone about my younger sister, but I regret that I could not do anything since I entered the military. However, she also will probably be satisfied with the events at this time.

Please give my warmest regards to two former teachers, Yamamoto-sensei and Yoshimizu-sensei.

I deeply appreciate my aunt's kindness in giving me constant guidance so that I would not err in my way until now.

Mother, farewell.

Emperor's reign
Praying for longevity
I will go
On journey to death
Together with American plane
Kuniyoshi also wrote the following shichigon zekku, which is a Japanese poem of four lines, each with seven kanji (Chinese characters):
Attack enemy American ships at Okinawa
Youths with planes turned into bombs
Blasts of wind a wall against approaching enemy carriers
Ah, Shinbu Squadron skulls

May 23, 1945, at Hōfu Airfield
58th Shinbu Squadron, Army Sergeant Hidetoshi Kuniyoshi
The last phrase of "Shinbu Squadron skulls" refers to the 58th Shinbu Squadron symbol of skull and crossbones that was painted on the tail of each plane.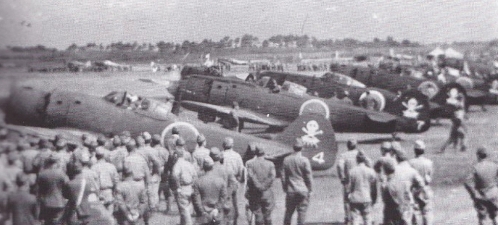 58th Shinbu Squadron's Hayate Fighters lined up at Shimodate
Airfield (Ibaraki Prefecture) before flying to Hōfu Airfield (Yamaguchi
Prefecture). Each fighter's tail has the skull and crossbones symbol.
---
Letter and poems translated by Bill Gordon
May and July 2018
The letter comes from Chiran Tokkō Irei Kenshō Kai (2005, 134). The shichigon zekku poem comes from Terai (1977, 92). The biographical information in the first paragraph comes from Chiran Tokkō Irei Kenshō Kai (2005, 134, 207) and Osuo (2005, 199).
Note
1. Akeno in Mie Prefecture was a major Army training air base. On March 29, 1945, the 58th Shinbu Special Attack Squadron was formed at Akeno Air Base.


First half of Hidetoshi Kuniyoshi's last letter


Second half of Hidetoshi Kuniyoshi's last letter
Sources Cited
Chiran Tokkō Irei Kenshō Kai (Chiran Special Attack Memorial Society), ed. 2005. Konpaku no kiroku: Kyū rikugun tokubetsu kōgekitai chiran kichi (Record of departed spirits: Former Army Special Attack Corps Chiran Base). Revised edition, originally published in 2004. Chiran Town, Kagoshima Prefecture: Chiran Tokkō Irei Kenshō Kai.

Osuo, Kazuhiko. 2005. Tokubetsu kōgekitai no kiroku (rikugun hen) (Record of special attack corps (Army)). Tōkyō: Kōjinsha.

Terai, Shun'ichi, ed. 1977. Kōkū Kichi Miyakonojō Hayate Tokkō Shinbutai (Miyakonojō Air Base Hayate Special Attack Shinbu Unit). Tōkyō: Genshobō.