To the end of the flowing clouds:
Writings of Navy reserve
students who died in war (1952)
Last Letter of Lieutenant Junior Grade Yukimitsu Tomizawa to His Parents
At 1250 on January 6, 1945, Lieutenant Junior Grade Yukimitsu Tomizawa took off from Mabalacat Air Base in the Philippines as pilot in a Zero fighter carrying a 250-kg bomb. He was a member of the Kamikaze Special Attack Corps 19th Kongō Squadron. He died in a special (suicide) attack at the age of 23. He was from Hokkaidō Prefecture, attended Hokkaidō 2nd Teachers College, and was a member of the 13th Class of the Navy's Flight Reserve Students.
He wrote the following final letter:
Dear Father and Mother,

I trust that you are in very good health.

My fighting spirit is all the more full of vigor, and also I will make a sortie.

The New Year has come. I chose to welcome my 24th birthday at Yasukuni [1]. It's because the mochi (sticky rice cakes) at Yasukuni Shrine are big! The enclosed photo of rigorous training at OO [2] was taken for me by Lieutenant Junior Grade Shimo [3]. Please look at the glint in my eyes. Please look at the clenched fists.

I believe that you, my father and mother, are the best father and mother in Japan. At New Year's please have many feasts in front of my naval uniform. Zōni mochi [4] is my favorite. I am close as you probably are around the stove and telling stories about your memories of me. I intend to work very enthusiastically as an officer of the deck at Yasukuni Shrine.

Mother, you surely must not cry when you find out about news of my death in battle. I will be waiting at Yasukuni Shrine. You surely will come.

Today I had extremely deep emotions when I received the Imperial gift of sake. The enemy has come right before us. If I do not do it, you will die. The country of Japan will be in a terrible situation. I certainly will do it without being second to anyone.

The photo of my smiling face looks exactly like Father! I carry a photo of Mother in my backpack. This tells me that Mother also is serving with me and is always at my side. Mother, it is very encouraging to me.

Older Brother Yukio, I request that you handle the family's many affairs. Together with Older Brother Kaichi, please help and get along well with Younger Brothers Kahei, Kyūhei, and Yasunori.

Please give my regards to my teachers. As for my body of 19 kan (71 kilograms), now the opportunity of a hissatsu gōchin (sure death, instant sinking) came flying in.

Give my regards to Uncle and Aunt in Otaru [5].

Give my regards to Uncle and Aunt in Hakodate [6].

Give my regards to Aunt in Nakano.

Mr. Moroaki Kunimoto, thank you for your care. Uncle, I will achieve splendidly a great battle result.
---
Letter translated by Bill Gordon
May 2018
The letter comes from Hakuō Izokukai (1952, 182-4). The biographical information in the first paragraph comes from Hakuō Izokukai (1952, 182) and Osuo (2005, 170). The photo below is from Yasukuni Jinja (1994, 30).
Notes
1. Yasukuni Shrine in Tōkyō is the place of enshrinement for spirits of Japan's war dead.
2. The OO indicates that the location could not be provided in correspondence to civilians, since it was considered a military secret.
3. Yasukuni Jinja 1996, 97.
4. Zōni is a New Year's soup containing mochi (rice cakes) and vegetables.
5. Otaru is a city in Hokkaidō Prefecture.
6. Hakodate is a city in Hokkaidō Prefecture.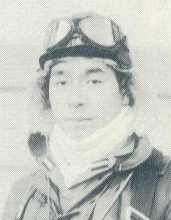 Lieutenant Junior Grade
Yukimitsu Tomizawa
Sources Cited
Hakuō Izokukai (Hakuō Bereaved Families Association), ed. 1952. Kumo nagaruru hate ni: Senbotsu kaigun hikō yobi gakusei no shuki (To the end of the flowing clouds: Writings of Navy reserve student who died in war). Tōkyō: Nihon Shuppan Kyōdō.

Osuo, Kazuhiko. 2005. Tokubetsu kōgekitai no kiroku (kaigun hen) (Record of special attack corps (Navy)). Tōkyō: Kōjinsha.

Yasukuni Jinja, ed. 1994. Iza saraba ware wa mikuni no yamazakura (Farewell, we are our country's mountain cherry blossoms). Tōkyō: Tentensha.

________, ed. 1996. Eirei no koto no ha (Words of the spirits of war dead), Volumes 2. Tōkyō: Yasukuni Jinja Shamusho.