Cebu Kannon Statue
Cebu City, Philippines
A tall bronze kannon (Buddhist Goddess of Mercy) statue stands next to the parking lot of the Marco Polo Plaza Hotel on a hill overlooking Cebu City in the Philippines. The plaque on the front of the monument's base has the following information in both Japanese and English:
This Statue of The Goddess of Mercy
is dedicated to all Filipinos and
Japanese who lost their lives
in this area in World War II.
May their souls rest in peace.
A plaque on the back of the base indicates in Japanese that the monument was erected on May 21, 1983, by Cebu Naval Unit bereaved family members and veterans, the Army Paratrooper Unit 34 Association, and other volunteers.
No sign provides details regarding the erection of the kannon statue or what happened during World War II in Cebu. There were 86 members of the Navy's Kamikaze Special Attack Corps who died in special (suicide) attacks after taking off from Cebu Air Base from October 21, 1944, to January 3, 1945 [1]. Cebu was the second largest Kamikaze Corps base in the Philippines behind Mabalacat Air Base with 139 men who died from there in special attacks [2]. The Yamato Squadron, part of the first Kamikaze Corps unit formed at Mabalacat Air Base during the night of October 19, 1944, flew to Cebu the next day. On October 21, 1944, Lieutenant Junior Grade Kōfu Kunō, Yamato Squadron Commander, became the first Kamikaze Corps pilot to die in a special attack unit when he took off from Cebu Air Base toward Leyte Gulf and never returned [3]. Other Kamikaze Corps squadrons that took off from Cebu Air Base after Yamato include Hazakura, Baika, Shōmu, Sakurai, and several others.
Cebu also had a base of kōhyōteki (Type A Target) midget submarines from November 1944 until the American invasion of Cebu on March 26, 1944 [4]. These midget submarines were considered to be tokkō (special attack) weapons since the crewmen had little chance of returning alive from an attack.
Tokkōtai Senbotsusha (1990, 340) provides information regarding the monument's erection. In 1974, the Ministry of Health and Welfare Remains Collection Group Navy Unit visited Cebu, and the next year the 201st Air Group Association made a memorial pilgrimage to several sites in the Philippines and erected a large monument of about two meters in Cebu. Afterward, five other smaller monuments were added. In 1983, this kannon statue was erected at the tourist location of the newly-constructed Cebu Plaza Hotel in order to combine the six monuments into one. The bronze kannon was made in Japan through contributions of the Navy Memorial Association.
The 1990 Japanese movie Hokui 15° no dyuo: Nihon hatsu no shinpū tokubetsu kōgekitai no kiseki (15 degrees north latitude duo: Tracks of Japan's first Shinpū (Kamikaze) Special Attack Unit) includes a visit by a Japanese man and woman to Cebu City to see the Kannon Statue.
A memorial ceremony is held each year on August 15 in front of the Cebu Kannon Statue.
The following last letters and diary entries were written by Kamikaze Special Attack Corps members who took off from Cebu Air Base and died in special attacks:
Notes
1. The numbers come from an exhibit at Kanoya Air Base Museum, and the dates come from Osuo (2005, 158-172).
2. From exhibit at Kanoya Air Base Museum.
3. Maru Editorial Department 1991, 294; Ohno 1995, 253-4, 262-3; Osuo 2005, 158.
4. Tokkōtai Senbotsusha 1990, 340.
Sources Cited
Maru Editorial Department, ed. 1991. Moeru tokkō kichi Sebu o shishu seyo (Defending Fervent Cebu Special Attack Base to the Death). Tōkyō: Kōjinsha.

Ohno, Kaoru. 1995. Kamikaze tokkōtai "zero gō" no otoko: Kaigun chūi Kunō Kōfu no shōgai (Man who was number zero in Kamikaze Special Attack Corps: Life of Navy Lieutenant Junior Grade Kofu Kuno). Tōkyō: Kōjinsha.

Osuo, Kazuhiko. 2005. Tokubetsu kōgekitai no kiroku (kaigun hen) (Record of special attack corps (Navy)). Tōkyō: Kōjinsha.

Tokkōtai Senbotsusha Irei Heiwa Kinen Kyōkai (Tokkōtai Commemoration Peace Memorial Association). 1990. Tokubetsu Kōgekitai (Special Attack Corps). Tōkyō: Tokkōtai Senbotsusha Irei Heiwa Kinen Kyōkai.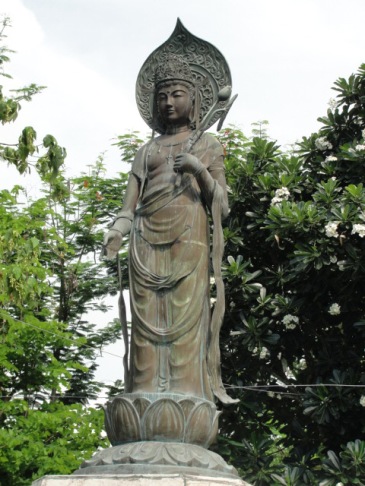 Cebu Kannon (Goddess of Mercy) Statue