In Fukuoka City with Senri Nagasue
and classmates in 14th Class of
Kō Naval Flight Training Program
2004 Japan Trip
As part of my research for this web site on Kamikaze Images, I visited Japan for two months in 2004. The primary purposes of this trip were to view artifacts at museums, to visit former air bases, and to talk with former kamikaze pilots and others about their wartime experiences. These activities greatly assisted in my exploration of Japanese portrayals and perceptions of the young men who participated in suicide attacks near the end of World War II. In the summer of 2003, I also visited four major Japanese museums with exhibits related to kamikaze pilots in order to get ideas and gather materials for this web site.
My trip itinerary included visits to eleven museums with exhibits related to Special Attack Corps that carried out suicide attacks. I also went to several former air bases with monuments related to the Kamikaze Corps, such as Oita, Kushira, and Miyazaki. I had the opportunity to meet about forty people who served in the former Japanese Imperial Navy or who were family members of kamikaze pilots who died in the war. Most of the former Navy pilots had joined kamikaze squadrons before the end of the war, and four had flown on suicide missions to Okinawa but returned due to engine problems, weather, or plane damage after attacks by American planes. Near the end of the war the Navy and Army designated many entire units as special attack units intended to carry out suicide attacks, so many men had trained in kamikaze units but did not attempt actual attacks because the military lacked sufficient usable planes and the end of the war occurred soon after the men had been assigned to kamikaze units. Although most of Japan's Special Attack Corps consisted of pilots who tried to crash planes into Allied ships, I also met one man who had been a member in an ōka (rocket-power glider bomb) squadron and another man who trained as a fukuryū (frogman in shallow water to destroy the enemy's landing craft with explosives attached to top of bamboo pole).
Senri Nagasue, a former kamikaze pilot who has one of the largest Japanese web sites about kamikaze, arranged for me to meet many people on my trip through Japan. Most of these people are his Navy classmates or others he has met in performing research for the four books he has written on the Kamikaze Special Attack Corps. Several people took me to out-of-the-way monuments and small exhibitions that I did not have on my original itinerary. Many men, in addition to telling me about their wartime experiences, provided me with articles, books, photos, and other material that provided invaluable resources for this web site on Kamikaze Images.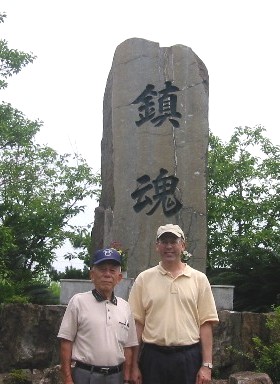 With Ryōhei Kawakaze, former kamikaze pilot,
in front of Miyazaki Special Attack Base Monument
During my trip to Japan, the places I visited and people I met allowed me to make many interesting connections between information found in books, films, museums, Internet, and other sources. For example, I discovered many links to Shin'ichi Ishimaru, a professional baseball pitcher who joined the Navy and died as a kamikaze pilot at the age of 22 in May 1945. During the first half of my two-month stay in Japan, I attended Japanese classes at the Okayama Institute of Languages. The mother of the family in whose home I stayed in Okayama City came from Saga Prefecture, Shin'ichi Ishimaru's home prefecture, and she had been a volunteer in the production of the film Ningen no Tsubasa (Wings of a Man) about Ishimaru's life. She let me watch this touching 1995 film, so I wrote a review of the movie for this web site. When I visited the Special Attack Corps War Dead Memorial Tower in Kanoya City, I saw Ishimaru's name on a plaque with the names of 908 kamikaze corps members based at Kanoya who lost their lives. During my talk with a former ōka squadron member in Nobeoka City, he mentioned to me that he met Ishimaru at Kanoya Air Base and gave me a copy of a newspaper article he had written about the film. I visited the Yasukuni Jinja Yūshūkan near the end of the trip and saw Ishimaru's photo among the several thousand photos of war dead displayed at the museum. On the Internet, I read that Ishimaru's name is engraved on a monument, located outside the Tōkyō Giants' stadium, which honors professional baseball players who lost their lives in the war. Finally, through the Internet I obtained a book about Ishimaru's life, which includes several historical photos.
In another example of relating information from different sources during my Japan trip, I found out more about Hichiro Naemura, who served as an Army flight instructor in 1945 and spent much time at Bansei Air Base in Kagoshima Prefecture. Before visiting Japan, I had read several articles on the Internet about a former Japanese kamikaze pilot who in 1992 visited the War Museum in London dressed in the Army uniform he wore during the war and who talked with reporters about the reasons for kamikaze attacks. When I visited the Kaseda Peace Museum (now known as Bansei Tokkō Peace Museum), I found out that Naemura led the efforts to open the museum in 1993 and to construct the Bansei Special Attack Monument in 1972. A curator at the museum gave me several pieces of information about his visit to England, so then I figured out that the former kamikaze pilot who visited the War Museum and the man supported for the Kaseda Peace Museum are the same person. At the museum I also bought a large book by Naemura published in 1993 about the history of Bansei Air Base, including last letters and photographs of the men based there who died in kamikaze attacks.