Last Letters of Sergeant Saburō Miyagawa to His Parents
On June 6, 1945, Sergeant Saburō Miyagawa took off from Chiran Air Base and died in a special (suicide) attack west of Okinawa at the age of 20. He was a member of the 104th Shinbu Special Attack Squadron and piloted a Type 99 Assault Plane (Allied code name of Sonia). After his death in a special attack, he received a promotion to Second Lieutenant. He was from Niigata Prefecture and was a member of the 14th Class of the Inba Pilot Training School in Chiba Prefecture.
The incident of Miyagawa's return as a firefly is one of the most famous Special Attack Corps (tokkōtai) stories. During the evening prior to Miyagawa's sortie on a special attack mission, he made a promise to Tome Torihama to return the next night as a firefly (hotaru in Japanese). Torihama, who ran a small restaurant in Chiran that Miyagawa and many other Special Attack Corps pilots frequently visited, told many times until her death in 1992 this story of his return as a firefly to her restaurant at 9 p.m. on the same day that he had died in a special attack. A Special Attack Corps pilot in the popular 2001 Japanese film Hotaru is based on a combination of Miyagawa and a Korean pilot named Fumihiro Mitsuyama. The former Chiran restaurant of Tome Torihama is now the Hotaru Museum, and Torihama's daughter Reiko wrote a book entitled Hotaru Kaeru (The Firefly Returns), which includes Miyagawa's story in one chapter. Tadao Hiroi wrote Miyagawa's biography titled Hotaru ni natta tokkōhei: Miyagawa Saburō monogatari (Kamikaze pilot who turned into firefly: Story of Saburō Miyagawa) (1995).
Miyagawa wrote the following separate last letters to his father and mother with a death poem in tanka form (31-syllable poem with lines of 5-7-5-7-7 syllables) at the end of the letter to his father:
Dear Father,

I caused you much trouble. I will never forget your many acts of kindness since the days when I was young. Speaking of twenty years, even though it seems long, now that it has passed it seems short. My many thoughts, those memories.

At this time when you are growing old, I simply apologize for my lack of parental filial piety until now.

Because of developments in the war situation, there is nothing to do. I apologize to you that this life will end. However, a good opportunity has come to get rid of my reputation as a person who lacks filial piety. Surely with this please forgive my lack of parental filial piety until now. Certainly I will devote myself because of loyalty.

When I think, all kinds of things are going too much through my head like a stream.

When in elementary school, on our return from often walking together to town, I looked forward very much to your presents to family members

When in junior high school, even now deeply inside my head remains your face when you frequently went along the snow-covered road and came out to meet me in the cold.

I have happy memories of those times when we worked hard together in the mountains and fields. Those days were perfectly pleasant and meaningful. I warmly thank you.

I say goodbye as I apologize for my lack of filial piety until now.

Finally, I pray for your health.

Day and night
How to end
To my hometown
Memories
From very faraway

Saburō

---

Loving Mother, excuse me for neglecting to write for such a long time.

Completely determined and burning with the spirit of certain death, I go forward to my mission.

Mother, thank you for looking after me well during my twenty years. I remember clearly my figure at your breast when I was young. Mother, thank you for taking good care of me from morning to night. Forgive me for my worthlessness in that I cannot repay your kindness in any way.

From long ago it has been said that loyalty and filial piety go together. Loyalty is nothing but filial piety. Please rest assured. I will surely carry out my duty to you as parents.

Please take good care of your health.

Saburō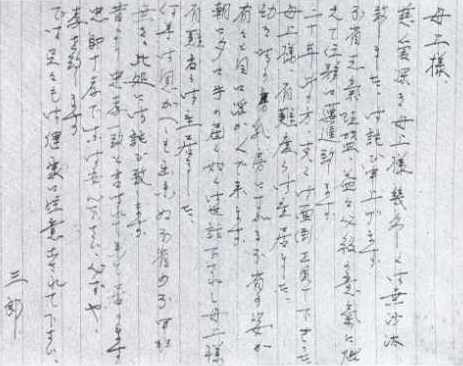 Saburō Miyagawa's final letter to his mother
He also wrote the following final letter:
Dear Parents,

Preliminaries omitted.

The remaining snow finally must be becoming less. You must be facing a busy time with every day being difficult. I am in very high spirits. From Manchuria I arrived safely at the advance base at Metabaru [1]. I am making preparations to complete my mission.

The cherry blossoms have fallen. The time has drawn near when we also will fall.

I was selected to be a member of the Army Special Attack Corps 3rd Gōma [2] Squadron. There is nothing that surpasses this as a young man's long-cherished desire.

This occasion will repay the Emperor's kindness. Will I really be able to repay even one ten-thousandth?

Certainly I am resolved to complete my mission with an instant sinking.

Even though I regret dying without doing anything until now to repay your kindness, I want to substitute an apology with completion of the mission that I have now.

There is no greater joy than loyalty and filial piety in living for an eternal cause. I surely will accomplish it. The sortie is soon.

I will write down the addresses of persons who cared for me during my stay at Taikyū (Daegu). Please send each person a thank-you letter.

Toku Ōtake, Ikesu Ryokan (Inn), 61 Banchi, Higashi Honmachi, Taikyū-fu, Chōsen (Daegu, Korea)

Seiko Kataoka, 2-9 Tamachi, Taikyū-fu, Chōsen (Daegu, Korea)

Masutarō Nakao, Nakatsukuma, Kitashigeyasu-mura, Miyaki-gun, Saga Prefecture

I ask that you handle those above.

Finally, I apologize for the misfortune that I caused until now, and I pray for your health.

Please give my regards to both of my older brothers Buichi and Eijirō, my older sisters Kiyo and Miyoshimasa, and the neighbors.

May 3

Saburō
---
Letters translated by Bill Gordon
September 2018
The first two letters come from Hiroi (1995, 3-5). The third letter comes from Chiran Kōjo Nadeshiko Kai (1996, 107-9). The biographical information in the first paragraph comes from Chiran Kōjo Nadeshiko Kai (1996, 107), Chiran Tokkō Irei Kenshō Kai (2005, 178), and Osuo (2005, 203-4).
Notes
1. Metabaru was an Army air base in Saga Prefecture in Kyūshū.
2. Gōma means "conquering the devil." The 3rd Gōma Squadron also was named the 104th Shinbu Squadron.
Sources Cited
Chiran Kōjo Nadeshiko Kai (Chiran Girls High School Nadeshiko Association), ed. 1996. Gunjō: Chiran tokkō kichi yori (Deep blue: From Chiran special attack air base). Originally published in 1979. Kagoshima City: Takishobō.

Chiran Tokkō Irei Kenshō Kai (Chiran Special Attack Memorial Society), ed. 2005. Konpaku no kiroku: Kyū rikugun tokubetsu kōgekitai chiran kichi (Record of departed spirits: Former Army Special Attack Corps Chiran Base). Revised edition, originally published in 2004. Chiran Town, Kagoshima Prefecture: Chiran Tokkō Irei Kenshō Kai.

Hiroi, Tadao. 1995. Hotaru ni natta tokkōhei: Miyagawa Saburō monogatari (Kamikaze pilot who turned into firefly: Story of Saburō Miyagawa). Niigata City: Niigata Nippō Jigyōsha.

Osuo, Kazuhiko. 2005. Tokubetsu kōgekitai no kiroku (rikugun hen) (Record of special attack corps (Army)). Tōkyō: Kōjinsha.