Last Letter of Sergeant Shin'ichi Ogawa
On March 29, 1945, Sergeant Shin'ichi Ogawa took off from Okinawa Naka Airfield (currently known as Kadena Air Base) and died in a special (suicide) attack west of Okinawa at the age of 23. He was a member of the Makoto 41st Hikōtai (Flying Unit) Fuyō Squadron. He piloted an Army Type 97 Fighter (Allied code name of Nate). After his death in a special attack, he received a promotion to Second Lieutenant. He was from Okayama Prefecture and was a member of the 7th Class of the Army Youth Pilots (Rikugun Shōhi) training program.
He wrote the following death poem:
With my heart I envy the fortune in battle of Nankō [1]
Today I also with my Fuyō aircraft

Army Special Attack Corps
Fuyō Squadron
Youth Pilots 7th Class

Shin'ichi Ogawa
He also wrote the following short final letter:
Today I will make a sortie.

I deeply appreciate your guidance and encouragement for many years.

Finally, I pray for great happiness for all of the townspeople.
---
Letter and poem translated by Bill Gordon
July 2018
The letter and poem come from Muranaga (1989, 58). The biographical information in the first paragraph comes from Chiran Tokkō Irei Kenshō Kai (2005, 95, 199) and Osuo (2005, 212).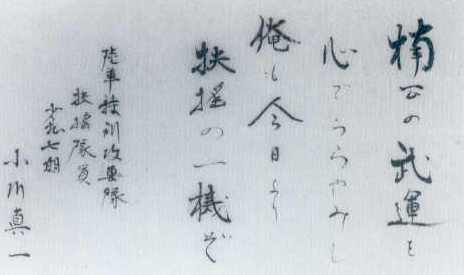 Death poem of Sergeant Shin'ichi Ogawa
Note
1. Nankō is the honorary title given to Kusunoki Masashige, a 14th-century samurai who in the Edo Period came to symbolize loyalty, courage, and devotion to the Emperor.
Sources Cited
Chiran Tokkō Irei Kenshō Kai (Chiran Special Attack Memorial Society), ed. 2005. Konpaku no kiroku: Kyū rikugun tokubetsu kōgekitai chiran kichi (Record of departed spirits: Former Army Special Attack Corps Chiran Base). Revised edition, originally published in 2004. Chiran Town, Kagoshima Prefecture: Chiran Tokkō Irei Kenshō Kai.

Muranaga, Kaoru, ed. 1989. Chiran tokubetsu kōgekitai (Chiran special attack forces). Kagoshima City: Japlan.

Osuo, Kazuhiko. 2005. Tokubetsu kōgekitai no kiroku (rikugun hen) (Record of special attack corps (Army)). Tōkyō: Kōjinsha.