Last Writings of Second Lieutenant Tadao Nishimiya
On June 21, 1945, Second Lieutenant Tadao Nishimiya took off from Miyakonojō East Airfield as a member of the 26th Shinbu Special Attack Squadron and died in a special (suicide) attack west of Okinawa at the age of 22. He piloted an Army Hayate Type 4 Fighter (Allied code name of Frank). After his death in a special attack, he received a promotion to Captain. He was from Ibaraki Prefecture, attended Senshū University in Tōkyō, and was a member of the 1st Class of the Army Special Cadet Officer Pilot Training (Tokubetsu Sōjū Minarai Shikan) Program.
He wrote the following final letter with a death poem in tanka form (31-syllable poem with a syllable pattern of 5-7-5-7-7) at the end:
I truly have no excuse for not being able to show you anything like filial piety in the twenty plus years since I received life and instead causing you only worries.

Recently I have been developing, having nothing like any illness. I am only extremely grateful at this time when now I am able to accomplish a man's long-cherished desire as a member of the air force.

What I like very much is "liquor."

A dedicated child as warrior of Japan
Expecting only to hit enemy ship
Nishimiya also wrote the following letter with a postmark of June 13, 1945:
The time for a marvelous deed finally has come. I think that surely you must be worried with the long period of not hearing from me. I left the mainland and passed time in Korea and Manchuria and then went to Nanking. This period was about two months, and I again set foot on the mainland, which really has places famous for natural beauty. I feel like I have returned to my own home.

At last the day of the sortie is drawing near. I only am waiting for improvement in the weather. I will make a splendid hit on an aircraft carrier and instantly sink it. I will make a sortie with belief in certain victory for this divine country and belief that others will follow after me. Finally there now is a condition where optimism in the war situation cannot be acknowledged. Enemy air attacks have become more and more extensive.

Everyone, take good care of your health so that your life for the country will not be useless.
He also wrote the following, which includes four poems, the first three in tanka form and the last one in haiku form (17-syllable poem with a syllable pattern of 5-7-5). The rest of the writing consists of various separate words and phrases.
Sincerity

Wise commands from Emperor, intently
With them in heart dedicated with sincerity

Loyalty Courtesy Bravery Faithfulness Simplicity

In Empire child of warrior is born
Today am happy to make taiatari (body-crashing) attack

Indifference regarding one's life Complete devotion Indestructibility Certain victory

Now look at hit and sinking of ugly barbarian ship
Shining power will build country

Conquering barbarians 26th Shinbu Squadron, Seii [1] Squadron Prosperity Young cherry blossom Sortie

Man who cannot bear circumstances Japanese person Shield Humble

At Yasukuni
Let's drink together
Variety of liquor

Yasukuni Shrine in capital with flowers Heavy drinker Young officer Theory of inadequacy from beginning about death

Episode in Greater East Asia War Taiatari (body-crashing) attack One "bump"

Happiness to make taiatari attack Dying in worthwhile life

Tōhoku dialect Hit on target Vanguard Resolution Revere Emperor, expel barbarians

26th Squadron
Second Lieutenant Nishimiya
---
Writings translated by Bill Gordon
First letter - May 2018
Second letter and writing with four poems - April 2020
The first letter comes from Chiran Tokkō Irei Kenshō Kai (2005, 149). The second letter and writing with four poems come from Terai (1977, 105-6).The biographical information in the first paragraph comes from Chiran Tokkō Irei Kenshō Kai (2005, 149, 163) and Osuo (2005, 196).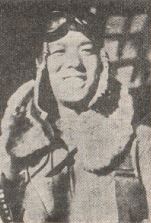 Second Lieutenant
Tadao Nishimiya
Note
1. Seii means "conquering barbarians" and was another name for the 26th Shinbu Special Attack Squadron.
Sources Cited
Chiran Tokkō Irei Kenshō Kai (Chiran Special Attack Memorial Society), ed. 2005. Konpaku no kiroku: Kyū rikugun tokubetsu kōgekitai chiran kichi (Record of departed spirits: Former Army Special Attack Corps Chiran Base). Revised edition, originally published in 2004. Chiran Town, Kagoshima Prefecture: Chiran Tokkō Irei Kenshō Kai.

Osuo, Kazuhiko. 2005. Tokubetsu kōgekitai no kiroku (rikugun hen) (Record of special attack corps (Army)). Tōkyō: Kōjinsha.

Terai, Shun'ichi, ed. 1977. Kōkū Kichi Miyakonojō Hayate Tokkō Shinbutai (Miyakonojō Air Base Hayate Special Attack Shinbu Unit). Tōkyō: Genshobō.