Nobuo Ishibashi, Kamikaze Special
Attack Corps 1st Tsukuba Squadron
(April 6, 1945, Kanoya Air Base)
Remembering Times Past from 34 Years Ago
by Miyoji Kobayashi
Miyoji Kobayashi is a former Navy Lieutenant who was a buntaichō (Division Officer) at Kasumigaura Air Group. After Tsukuba Air Group formed kamikaze squadrons, then he had responsibilities for directing these squadrons at Tsukuba and Kanoya Air Bases.
---
The situation was such that Kamikaze Special Attack Squadrons were formed at Tsukuba Air Group. I do not know what type of talk they heard from the Commander. However, I can roughly imagine what happened. I heard that they volunteered, but in those days the conditions were such that no one could trail behind.
The Kamikaze Special Attack Corps Tsukuba Squadrons that were first formed included a total of 20 fighter aircraft crewmen. There were 6 from the Yobi Gakusei (Reserve Students) 13th Class, 9 from the Yobi Gakusei 14th Class, and 5 noncommissioned officers. Among these men was Lieutenant Junior Grade Nobuo Ishibashi.
Soon after special attack squadrons had been formed, I made an appearance at the reserve officer quarters. Before hanging their hammocks and sleeping, in various ways they were very lively and cheerful. Lieutenant Junior Grade Ishibashi told me, "Lieutenant A is good at his imitation of Popeye." As Lieutenant A was encouraged with cries of "ah! oh!" by his comrades surrounding him, he cheerfully did for them his impersonation with sounds of "puff, puff." Forgetting any complaints, they all together erupted in excitement upon hearing the sounds of "puff, puff" that time. I was left with the impression that it was a boisterous atmosphere. Ishibashi said to me, "Buntaichō (Division Officer), it's because he is the Okubo Hikoza [1] of fighter planes." Not knowing where such talk came from and hearing them talk about him in different ways, I felt somewhat awkward and left. Such liveliness? Such happiness? I wondered whether it was like that every day. Getting a chance to look in at a side of their lives that could not be seen at the airfield, I somehow had a feeling of relief.
We took off from Tsukuba while I accompanied the 20 young men as we advanced to Kanoya Base. The 721st Air Group (Jinrai Butai or Thunder Gods Corps) fighter squadrons were at Kanoya Base, and their commander was Captain Motoharu Okamura. Commander Tadashi Nakajima was giving various directions to the kamikaze pilots.
There were also persons who made sorties on the day following their arrival at Kanoya. I think that Lieutenant Junior Grade Ishibashi was one of these men.
The barrack was an elementary school very near the airfield. Even though the time for dinner had long passed, Ensign Shin'ichi Ishimaru and Ensign Kōichi Honda had not appeared. When I went out to the schoolyard to look, the two of them were enthusiastically playing catch in the dim twilight.
While I watched the ball, it seemed like Ensign Ishimaru, former Nagoya-gun [2] professional pitcher, and Ensign Honda, noted first baseman at Hōsei University who participated in Tokyo Six Universities baseball competition, were following their lifetime dreams as they held the ball. Several days later someone asked Ensign Ishimaru, "What was the happiest moment for you during your baseball career?" He responded with sparkling eyes, "I pitched against Starffin [3] and won."
In a dark room without electric light and with one candle, Lieutenant K gazed and gazed at the candlelight. Forever, forever.
I did not see anyone who made a sortie and returned. We saw them off with our hands waving, and they were taking off from the airfield as we waved our hands.
I, who had guided many Tsukuba Squadrons, had to return to Tsukuba. I left in Kanoya several young men who with short-lived fortune had survived without yet having the opportunity to sortie and without knowing when the order would be given. I flew low over their quarters and bid them farewell. The young men from Tsukuba Air Group looked up into the sky, waved their hands, and bid goodbye to this old man.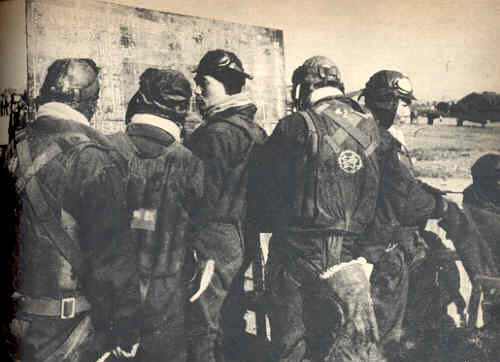 Tsukuba Air Group airmen during training
with pitching ace Shin'ichi Ishimaru in middle
---
Translated by Bill Gordon
October 2011
The source of the story on this web page is page 187 of the following book:
Makino, Kikuo, ed. 1979. Ichioku nin no shōwa shi (Nihon no senshi 4): Tokubetsu kōgekitai (Shōwa history of 100 million people (Japan's war history, Volume 4): Special Attack Corps). Tokyo: Mainichi Shinbunsha.
Related web pages:
Notes
1. Okubo Hikoza is a shortened name for Okubo Hikozaemon, a warrior who lived between 1560 and 1639. He rendered distinguished war service to the Shogun, but he was also known for his rebellious spirit and eccentricity.
2. The Nagoya-gun baseball team is now known as the Chunichi Dragons.
3. Victor Starffin, who as a child immigrated with his family from Russia, was the first professional pitcher in Japan to win 300 games. Starffin played for the Tokyo Kyojin-gun (now the Yomiuri Giants) when he pitched against Shin'ichi Ishimaru.
Related Information
Inoguchi (1958, 202-3) has the following letter:
Lieutenant Junior Grade Nobuo Ishibashi, a native of Saga City in northern Kyūshū, was born in 1920. He was a member of the Tsukuba Air Group before his assignment to the Special Attack Corps. This is his last letter home.

Dear Father:

Spring seems to come early to southern Kyushu. Here the blossoms and flowers are all beautiful. There is a peace and tranquility, and yet this place is really a battleground.

I slept well last night; didn't even dream. Today my head is clear and I am in excellent health.

It makes me feel good to know that we are on the same island at this time.

Please remember me when you go to the temple, and give my regards to all of our friends.

Nobuo

I think of springtime in Japan while soaring to dash against the enemy.
Source Cited
Inoguchi, Rikihei, and Tadashi Nakajima, with Roger Pineau. 1958. The Divine Wind: Japan's Kamikaze Force in World War II. Annapolis: Naval Institute Press.
HOME > Stories > Remembering Times Past from 34 Years Ago