Ten megurishi ya: Oshige-san to kaiten tokubetsu kōgekitaiin (Turn heaven: Oshige and kaiten special attack corps members)
by Ōtarō Tanigawa
Furusato Nihon Purojekuto (Homeland Japan Project), 2010, 64 pages
This manga book tells the story of Asako Kurashige, nicknamed Oshige, who worked at an inn named Matsumasa Ryokan (located in Tokuyama City, now called Shūnan City, in Yamaguchi Prefecture) where many kaiten pilots and other kaiten base personnel from a nearby island visited for group meals such as farewell parties. Kaiten weapons were manned torpedoes launched from submarines that carried out special (suicide) attacks from November 20, 1944, until the end of the Pacific War in August 1945. The narrator is a grandfather named Masa who tells the history of kaiten weapons and the story of Oshige to his grandson and granddaughter, who are probably in the upper grades of elementary school, as they are fishing together off a pier at Ōtsushima, the island where there was a secret Navy kaiten base during the war.
Masa explains to his grandchildren that he lived just in front of Matsumasa Ryokan, so he often visited there as a child when he was about the same age as his grandchildren. Since Tokuyama City had a large Navy fuel depot during the Pacific War, Navy officers and men often frequented Matsumasa Ryokan. Masa had great interest in these visitors to the inn since he had dreams of joining the Navy when he grew up.
On September 7, 1944, Ōtsushima Kaiten Base Commander Itakura and six men visit Matsumasa Ryokan for dinner, but they seem to Oshige to be somewhat depressed. Itakura explains to her that two men were found dead that morning in a training accident. Although he does not provide details to her since the kaiten training is top secret, Lieutenant Hiroshi Kuroki, one of the kaiten co-inventors, and another man died in a training accident when their kaiten torpedo got stuck in the bottom of Tokuyama Bay after they launched during bad weather late in the day on September 6, 1944. One of the men at the dinner at Matsumasa Ryokan is Lieutenant Junior Grade Sekio Nishina, who together with Kuroki originated the idea for the kaiten weapon as a modification of the Navy's successful Type 93 torpedo that was nicknamed the Long Lance. The story then flashes back for several pages as Nishina remembers the struggles that he and Kuroki had to develop the kaiten weapon and to convince the Navy command to deploy it as a special (suicide) attack weapon. The idea was finally supported, and the kaiten base at Ōtsushima opened at the beginning of September 1944.
At the dinner Nishina explains to the other men how Kuroki, trapped on the sea floor with his oxygen running out, spent his final ten hours of life by writing on the inside of the kaiten hull about the details of how they got stuck, warnings about what to watch for on future kaiten runs, and ideas for improvements in the weapon. Nishina admires Kuroki's heroic Japanese spirit and pledges to give his life as a Kaiten Special Attack Corps member in order to save the country. The other five men pledge the same, and the mood lightens when Oshige comes to their room to offer them more saké to drink. When the curious young boy Masa enters the room, the men laugh and joke as he shows them how he is learning how to use a bamboo spear in school. Masa tells the men that he will follow after them and work hard to protect the country. As the evening progresses, the men begin to call Oshige "Mother" since she treats them so kindly and is about the same age as their own mothers.
On November 7, 1944, 60 Navy men visit Matsumasa Ryokan for a sukiyaki dinner with food provided by the Navy due to shortages at the time. Not known by Oshige who served the dinner, 12 men including Sekio Nishina are kaiten pilots of the Kikusui Unit who will make a sortie the following day from Ōtsushima Kaiten Base. When they are leaving to return to base, Nishina sees Masa and instructs him on leaving, "See that all is well afterward." Oshige realizes that these are words that are spoken when someone will not return alive, but she did not find out about what happened to these men until she read a newspaper article dated March 24, 1945, about the Kaiten Special Attack Corps, which until that date had been a military secret. Both Oshige and Masa are heartbroken and shed many tears when they read in the article that the men who had visited Matsumasa Ryokan had died in kaiten attacks.
Masa's two grandchildren cry as he finishes telling his story about Oshige and the kaiten pilots. Oshige, who passed away in 1985, often said the following (p. 61): "I did not have my own children, but I was called Mother by over 100 young men. They depended on me like their own mothers. Could there be such a blessed person as me in this world? However, now the grave markers for over 100 of these children have been erected in my heart. Am I a blessed person, or am I the most unhappy woman in this world?"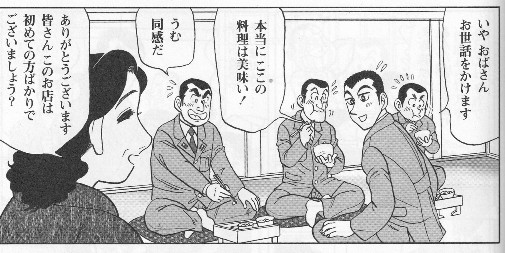 Oshige serves dinner to kaiten pilots when
they visit Matsumasa Ryokan
for a farewell party on November 7, 1944
The manga book has a separate sheet with color photographs and a map of kaiten-related sights on Ōtsushima such as the Kaiten Memorial Museum and the Kaiten Monument. More details about Oshige's life can be found at the web page Two kaiten stories, which has a review of Kaiten tokubetsu kōgekitai no haha: Oshige-san monogatari (Mother of kaiten special attack corps: Story of Oshige).
The publisher, Furusato Nihon Purojekuto (Homeland Japan Project), is an organization formed in 2002 to introduce Japan's heroes through manga. Both paper and electronic manga stories have been published, including the following two about Special Attack Corps members: Shinjuwan kyū gunshin irei hiwa (Secret stories of memorial to nine war gods of Pearl Harbor) and Rikugun tokkōtai 1036 eirei to tomo ni (With 1,036 spirits of war dead in Army Special Attack Corps). Other manga books published by Furusato Nihon Purojekuto (Homeland Japan Project) include ones about Japanese marathon runner Shizō Kanakuri (1891-1983), Saigō Takamori (1828-1877) who led the Satsuma Rebellion against the Meiji government, and Kodama Gentarō (1852-1906) who was instrumental in establishing a modern Imperial Japanese military.