Isao Uchiyama (at right), member of the 12th Kō Class of Navy's Yokaren (Preparatory Flight Training Program), reads names of classmates who died as part of 908 Kamikaze Special Attack Corps members who took off from Kanoya
Monuments
Japan has many monuments dedicated to special attack force members who died in suicide attacks during World War II. The locations of many former Navy and Army air bases have monuments with names inscribed of men who died after taking off from these bases. Kyushu, the southernmost main island of Japan, has the most monuments, since this was the location of many of the kamikaze bases where pilots made sorties toward American ships near Okinawa. However, many other places in Japan also have special attack force monuments, especially near former air bases where the pilots trained.
This section of the web site provides information on monuments erected in memory of special attack force members. A Japanese web site, Junkoku no ishibumi (War Memorials), has extensive information and many photos on special attack force monuments. Also, the 1990 book Tokubetsu Kōgekitai (Special Attack Corps) by the Tokkōtai Senbotsusha Irei Heiwa Kinen Kyoukai (Tokkōtai Commemoration Peace Memorial Association) has a large section with photos about special attack force monuments throughout Japan.
Many monuments are located near museums that have exhibits about special attack forces. In this web site section, additional historical information has been provided about two large former kamikaze sortie bases, Kushira and Miyazaki, that have monuments but no museums at the locations. Some locations, such as Chiran and Kanoya, have several monuments in the same area. Also, some museums have monuments located inside their buildings, so information on these has been included in the Museums section.
Annual memorial services are held at several of the monuments in this web site section. Since no remains exist of airmen who made kamikaze attacks, bereaved families had no opportunity to erect a typical memorial that would contain the ashes of the dead. Therefore, many family members and war comrades attend these memorial services as a tangible way to remember publicly the men who died. Most monuments probably have very few visitors at other times of the year, except where the monuments are located next to museums such as the Chiran Peace Museum for Kamikaze Pilots.
Although individual monuments have unique features, most can be put into five different categories. Examples are listed below for each category.
The Philippines also have several monuments related to kamikaze pilots including Kamikaze Pilot Statue (Mabalacat), Mabalacat West Airfield Monument, Cebu Kannon Statue, and Ohnishi Shrine.
Some monuments have replicas or models of special attack weapons such as kaiten (Hirao, Ōga, and Tokuyama) or ōka (Kashima).
The following monuments have individual web pages. The Lists web page categorizes the monuments in this section in various ways, such as location by prefecture, year erected, and best monuments.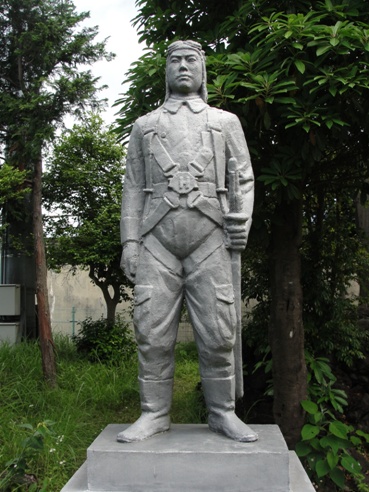 Statue of Tomisaku Katsumata, who died in
kamikaze attack on On October 26, 1944